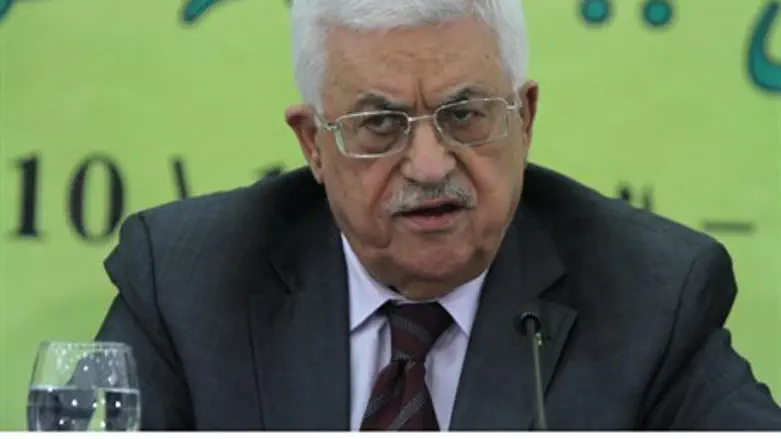 Mahmoud Abbas
Flash90
Palestinian Authority (PA) Chairman Mahmoud Abbas's advisors are sending contradictory messages to the Palestinian public, a report by Palestinian Media Watch has revealed.
Abbas's political advisor Nimer Hammad denounced recent violence in a statement broadcasted on official PA TV.
In the statement, Hammad emphasized, "Abbas is making sure that our people are not drawn into a cycle of violence and counter-violence, according to the Netanyahu government's plan to curb the diplomatic and political pressure against it."
However, on the same day, another Abbas advisor, Sultan Abu Al-Einein, wrote on Facebook, encouraging more violence by praising the terrorist murderers who carried out the recent attacks.
"Today, Jerusalem is seething with rage; behold the volcanoes of rage spewing lava in the faces of those who have defiled it, and in the faces of the occupying usurper. The earthshaking reaction came from the heroes of Jerusalem."
The antithetical remarks come in light of several violent terror attacks in Jerusalem in the past month, as well as a continuous stream of rock-throwing and firebombing incidents in the capital as well as Judea and Samaria. 
Calling them "bold and heroic Martyrs," Al-Einein mentioned by name the terrorist who attempted to assassinate activist Rabbi Yehuda Glick, as well as the names of two terrorists who carried out car terror attacks by plowing into Israeli pedestrians - resulting in 3 deaths, including that of a 3-month-old baby girl, and dozens of injuries. 
Al-Einein praised these "illustrious and blessed children" who are "saturating the land of the homeland with their pure blood and igniting the flames of rage."
He also justified the terror attacks as a "response to the occupation's actions, to its arrogance, and its defilement of the Al-Aqsa Mosque"
Meanwhile, Israeli Prime Minister Binyamin Netanyahu has continually blamed Abbas for the upsurge in violence, calling the second car terror attack on November 5 "a direct response to incitement by Abu Mazen and his colleagues in Hamas."