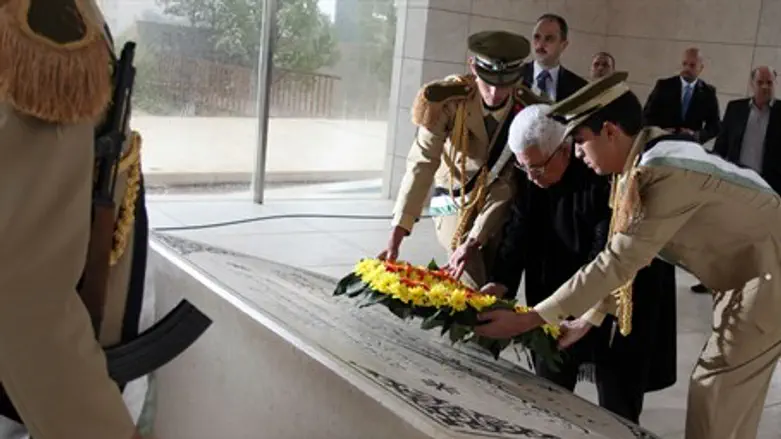 Mahmoud Abbas at Yasser Arafat's tomb
Issam Rimawi/Flash 90
Palestinian Authority (PA) Chairman Mahmoud Abbas on Sunday took part in a memorial service for former PA Chairman and Palestine Liberation Organization (PLO) terrorist leader Yasser Arafat, and promised to move the latter's grave to Jerusalem.
Jerusalem is the sovereign capital of the Jewish state of Israel where the PA has no rights to operate, even under the framework of the 1993 Oslo Accords.
Nevertheless, the Palestinian Arab Ma'an News Agency reported that Abbas said Arafat's "shrine" would be moved to "the capital of Palestine" as soon as possible.
The statement was part of an opening ceremony for an Arafat museum in Ramallah ahead of November 11 (Tuesday), which marks ten years since he died.
Arafat deserves to "remain immortal in the hearts of our people," Abbas said of the terrorist leader.
Palestinian Media Watch (PMW) last month documented how Abbas has called for using "all means necessary" against Jews "defiling" the Temple Mount - the holiest site in Judaism - in exactly the same way that Arafat called for the 2000 Second Intifada.
That five-year terror campaign to "defend Al-Aqsa Mosque" murdered 1,200 Israelis.
Since Abbas's recent calls, which received heavy rotation on official PA TV, there have been several high-profile terror attacks in Jerusalem including a shooting and two lethal car attacks.
While Abbas may want Arafat's grave in Jerusalem, he appears to be having little luck in Gaza, where an Arafat commemoration ceremony scheduled for Tuesday was cancelled after mysterious bombings last Friday hit the homes of several senior Fatah leaders in Gaza.
Abbas's Fatah blamed Hamas - its "unity partner" - for the blasts, and Hamas in turn pointed the finger at "logistic difficulties," saying the unity government has not paid Gaza security personnel.