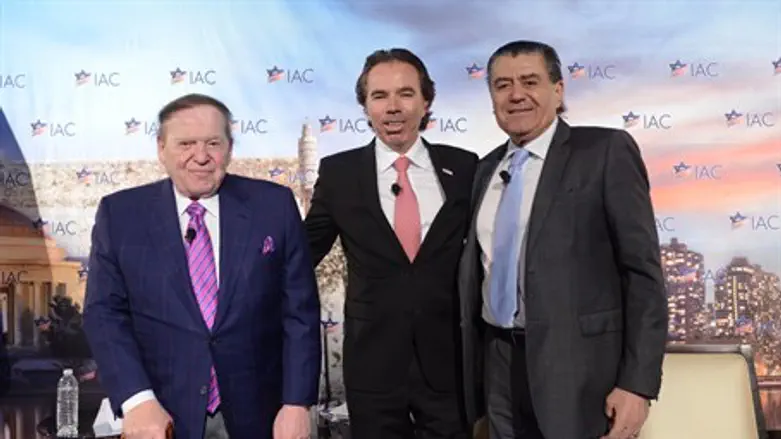 Sheldon Adelson, Shawn Evenhaim and Haim Saba
Shahar Azran
Jewish American philanthropist Sheldon Adelson said on Sunday that the United States must toughen its stance on Iran.
Adelson, a key Republican funder and a close associate of Prime Minister Binyamin Netanyahu, spoke at the inaugural conference of the Israeli-American Council (IAC), in which he shared a stage for the same time with Haim Saban, a top Democratic funder.
Adelson also said he believed that Israel does not have to agree to establish a Palestinian state only to maintain its democratic character.
In regards to Iran, he said that negotiations can only accomplish so much before military action becomes necessary.
"I wouldn't just talk, I would take action," he said. "Not taking action is too costly."
Saban said the United States should explore "all options", including tougher economic sanctions and do more to make Iran understand "we mean business" if they don't agree to a nuclear pact.
"Take military action, but only after all options have been exhausted. A stick and a carrot yes -- but we've shown too many carrots and a small stick," he said.
Adelson and Saban's comments come as Iran and six world powers are continuing their marathon talks in an attempt to reach a deal by a November 24 deadline.
Despite assurances it is confident of reaching a deal by November 24, Iran, has been toughening its stance in recent weeks. The country's deputy foreign minister, Abbas Araqchi, recently said he sees no prospect for a deal unless the other side abandons its "illogical excessive demands".
A senior Iranian official followed those comments by declaring that Iran will demand that all Western sanctions be lifted as part of a final deal, rejecting an American proposal of a gradual lifting of sanctions.
U.S. President Barack Obama admitted on Sunday that a "big gap" remained between Iran and the six world powers and that a deal may not be reached by the deadline.
Saban and Adelson's rare public forum reflected IAC's efforts to unite the Israeli-American and Jewish community around its mission of strengthening Israel, the American-Jewish community, and next generation and the U.S.-Israel relationship.
"Everyone in this room -- whether you're a Republican, a Democrat or Independent … when it comes to Israel, we're on the same side," Adelson said at the conference.
Another speaker at the same conference was former Republican presidential candidate Mitt Romney, who criticized Obama over his policy in the Middle East, accusing the president of being "naive" and of "distancing ourselves from allies".
Sen. Lindsey Graham (R-SC), speaking at the conference on Saturday night, also issued a call for a tougher stance on a nuclear Iran, calling the issue "the most significant event in modern history."
Graham, a member of the pivotal Senate Appropriations Committee, also threatened to pass legislation cutting off federal funding of the United Nations unless it stops allowing anti-Israel resolutions.
The UN "better get its act together. If you keep this Israeli bashing up, and if the UN turns into the most anti-Semitic force on the planet, we're going to cut your money off, he said.