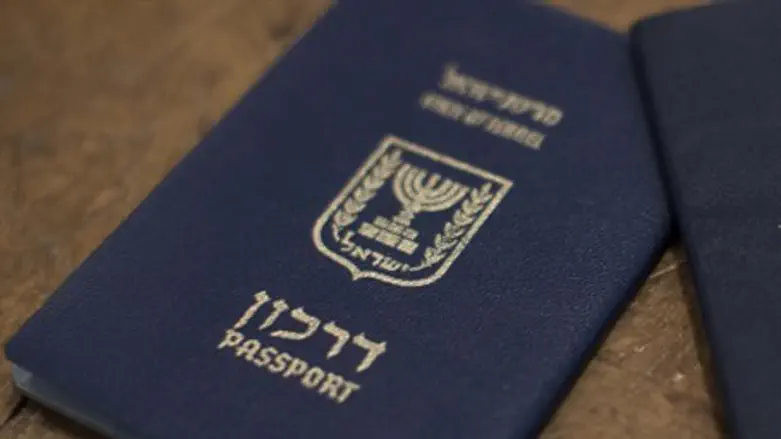 Israeli passport (illustrative)
Flash 90
Prime Minister Binyamin Netanyahu proposed a far-reaching bill on Saturday, which - if passed - would see citizenship revoked for any Israeli who calls for the destruction of the State of Israel.
The bill is actually the revival of a similar motion proposed by Yisrael Beytenu which was blocked in 2008. That proposal would have transferred the authority to cancel citizenship from the Minister of the Interior to the Prime Minister's Office, changing the current arrangement for citizenship issues from laws originating as far back as 1952.
Netanyahu made the announcement after declaring earlier Saturday that he would increase measures to stop the ongoing cycle of violence in Jerusalem, Judea and Samaria after multiple attacks. 
"Israel is a state of law," he said. "We will not tolerate disturbances and riots. We will act against rock throwers, road blockers and those calling for the establishment of a Palestinian state in place of Israel. Those who do not respect Israeli law will be punished very seriously."
If passed, the law could become the most stringent application of revoking citizenship in the Western world - i.e. revocation based on comments alone instead of actions.
Many countries do not allow revoking citizenship for any reason, including the US, Canada, Scandinavia. Other countries - such as Greece, the UK, and Australia - only give the authorities the power to do so only in severe cases, e.g. treason or involvement in terror groups abroad. 
Recent efforts to revoke citizenship have primarily revolved around enlistment to terror groups. In December, worldwide hysteria over a growing number of radical Muslims from the West joining the group culminated in the quiet revocation of UK citizenship of British Islamists found to be fighting with the group; and just last month, a similar motion was presented to Netanyahu for Israeli Arabs by Tourism Minister Uzi Landau. 
That motion was filed after thirty Israeli Arabs were revealed to have joined ISIS as of last month, and after a slew of incidents involving incitement against Israel or participation in Arab rioting since unrest erupted in June.