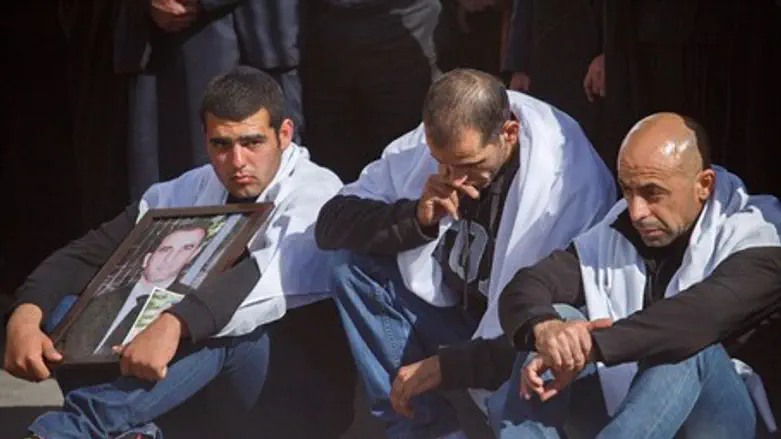 Family members mourn murdered border policema
Flash 90
President Reuven Rivlin paid a condolence visit to the family of Border Police Superintendent Jedan Assad, who was murdered in Wednesday's terror attack in Jerusalem.
Assad was one several people critically-wounded when a Hamas terrorist rammed his car into two separate groups of pedestrians, and succumbed to his injuries shortly after.
Another victim - 17-year-old Shalom Ba'adani - passed away Friday morning, bringing the death toll to two.
President Rivlin visited his family home in the Druze village of Beit Jann in northern Israel's Galilee region.
"I offer my condolences to a family who are an inseparable part of the Israeli experience," he said to Assad's parents. "Jadan Assad, of blessed memory, was a devoted family man, a tremendous soldier, and I am here today share in your terrible grief at his loss."
The border police officer was buried Thursday afternoon leaving behind his pregnant wife and three-year-old son.
The President also met with Jadan's widow, held her hand, and assured her the entire country joins stands by her, and shares in her loss.
Relating to the violent events in Jerusalem, and in a nod to the role the Druze community has played in contributing to the State of Israel and the IDF, he added: "In our country, Beit Jann defends Jerusalem, and Jerusalem defends Beit Jann - we all want to live in peace. 
"We are not at war with Islam, but with those who do not accept our existence here. This is not a religious war, but rather a struggle for the right of all of us to live together in this land."
There are some 150,000 Druze living in Israel most of whom, unlike Muslim and Christian Arabs, enlist in the IDF.