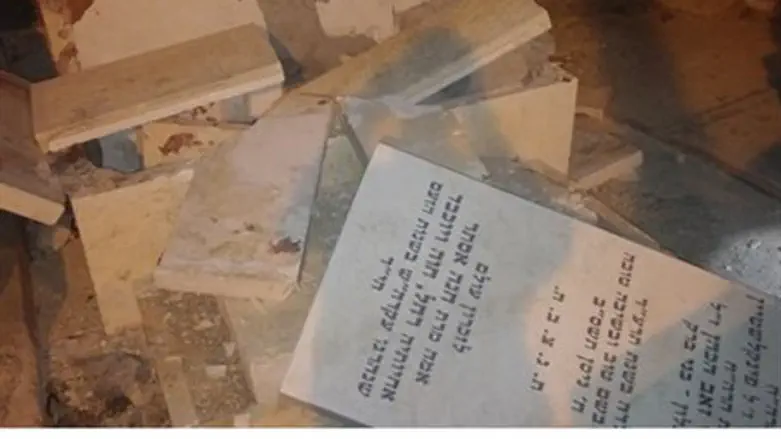 Mount of Olives desecration.
Anonymous
Jerusalem Director of Cemeteries, Rabbi Hillel Horowitz, told Arutz Sheva that the many acts of desecration at the cemetery on the Mount of Olives must not be ignored.
Dozens of graves have been destroyed at the site over the past few months. Security cameras at the cemetery have also been destroyed, and fires set on the tombs of hassidic leaders.
Jewish visitors have filed hundreds of complaints regarding rock-throwing attacks by Arabs, and vandalism of the graves of loved ones.
"Unfortunately, in recent months we have witnessed a real war. They destroy tombs and burn graves," Rabbi Horowitz said, "Tishrei saw three pogroms in which the grave of the Admor [Grand Rabbi] of Gur was desecrated. We hope that the situation will be repaired. In the past few days, police have greatly increased their presence Jerusalem and also their presence in the cemetery."
Rabbi Horowitz stressed the need to increase punishment against grave violators.
"Last Monday, police arrested three suspects. These terrorists have already admitted it, but some of them were released. We need to make harsher punishments."
Rabbi Horowitz is referring to three suspects, aged 22, 15-and-a-half and 12, all residents of the north-eastern Jerusalem neighborhood of A-Tur, who are thought to have destroyed graves at the site over the course of the past month.
The 12-year-old suspect was sent home under restrictions and a report about him was sent to welfare officers. The other two older suspects were to be brought on Monday at 1 p.m. for a discussion on an extension of their detention at the Jerusalem Magistrates Court.
"I went to the President and asked him what would have happened if this had occurred in Poland. There, they would call desecration anti-Semitism. Here, in the heart of Jerusalem, on the Mount of Olives, the Holy of Holies, [the incident] goes by quietly.
"We demand there be harsher punishment for desecration of graves in the law code."
Rabbi Horowitz added that the near-constant desecration of graves on the Mount of Olives has caused many people to not want to be buried there. 
"On Mount Hamenuhot there is no room for field burial, only burial saturation. Mount of Olives has plenty of room for the thousands of graves in the traditional field burial. Just yesterday I suggested to an important family to have the head of their family buried there, but they did not want to."