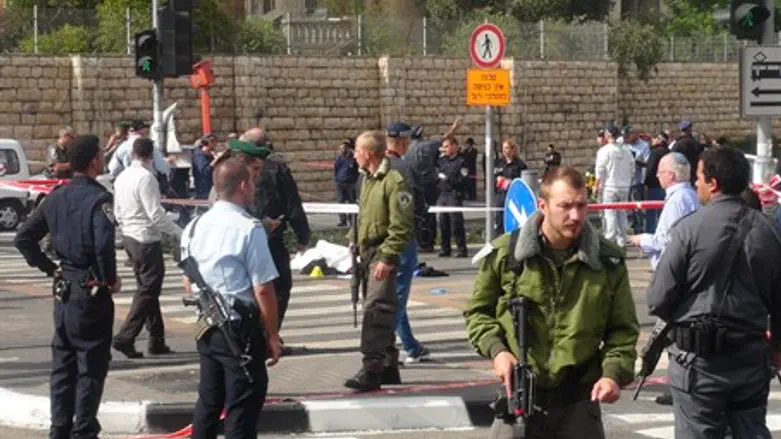 Scene of Jerusalem attack
Yoni Kempinski
On Wednesday, Border Police shot and killed Hamas terrorist Ibrahim al-Akari after he plowed his car into a Jerusalem Light Rail station, then exited his vehicle and beat bystanders with a crowbar. The rampage killed a Druze Border Policeman and wounded ten to fifteen others. 
To clarify details of how police apprehended the terrorist, Arutz Sheva spoke to a Border Police Superintendent, H., shortly after the rampage. 
"I and four other border police officers saw the terrorist's vehicle strike officers and civilians near the train," H. recounted. "We realized this was a terror attack and we began pursuing him."
"He continued driving, hitting cars and people along the way," he continued. "We managed to stop him at the next intersection."
Then, the situation escalated, he said.
"The terrorist opened the car door and emerged with a metal bar and began to hit civilians and officers," H. stated. "He started running at us and did not respond to calls to stop and we shot him."
"I have no doubt that all Border Guard officers would act the same way," he added. "We lost an officer today. We express our condolences to the family."