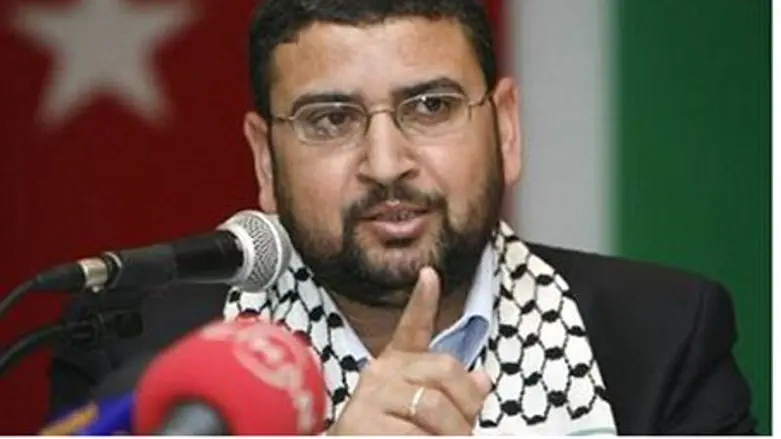 Sami Abu Zuhri
Reuters
Hamas hailed Wednesday's deadly car attack in Jerusalem by one of its members, calling it "the natural response to the crimes of the (Israeli) occupation".  
"Hamas salutes its hero-martyr Ibrahim al-Akari, likewise hero-martyrs Abdelrahman Shaludi and Muataz Hijazi," the Islamist group said in a statement, referring to the perpetrators of two recent terrorist attacks in Jerusalem.
Akari, whom police identified as a 38-year-old Arab from east Jerusalem's Shuafat neighborhood plowed his car into two groups of pedestrians before getting out of the vehicle and attacking passers-by with an iron bar.
Police then shot him dead.
Hamas confirmed earlier reports that Akari was the brother of a terrorist released from an Israeli prison as part of a 2011 swap for Israeli soldier Gilad Shalit.
Shaludi, who was from east Jerusalem's Silwan neighborhood, killed two people with his car on October 22 near the site of Wednesday's attack before also being fatally shot by police at the scene.
A week later Hijazi, also from east Jerusalem, shot and wounded Temple Mount activist Rabbi Yehuda Glick in a murder attempt. He was shot dead early the next morning in a gunfight with police at his home.    
Hamas spokesman Sami Abu Zuhri told AFP on Wednesday that Akari had acted in a "natural response to the crimes of the (Israeli) occupation against Al-Aqsa mosque and occupied Jerusalem."
In an almost identical call to one made by Palestinian Authority leader Mahmoud Abbas last month, Abu Zuhri urged "all Palestinians to use all means to oppose the crimes of the occupiers against Al-Aqsa."
The Islamic Jihad terrorist group issues a statement of its own "saluting the operation in Jerusalem" and adding that "the battle against the enemy continues."
Earlier, Hamas spokesperson Mushir al-Masri released a statement shortly after the attack, saying "we strengthen the hands of the one who avenges the blood of those wounded in Al-Aqsa."