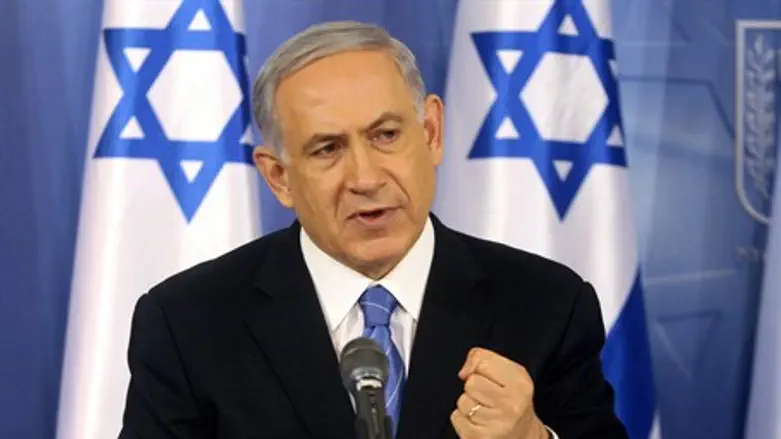 Binyamin Netanyahu
Flash 90
Prime Minister Binyamin Netanyahu said Wednesday that the terror attack earlier which took the life of one Israeli and injured over a dozen was the direct fault of Palestinian Authority chief Mahmoud Abbas, who through his incitement against Israel was inspiring terrorists to attack and kill Israelis.
Speaking during an official state ceremony on the anniversary of the murder of former Prime Minister Yitzchak Rabin, Netanyahu said that "the terror attack earlier today in Jerusalem is the direct outcome of incitement by Abbas, and his Hamas partners. We are in an ongoing struggle for Jerusalem, and I have no doubt we will win."
One person was killed and at least 13 wounded in Jerusalem, when a terrorist drove his vehicle into a crowd of pedestrians at the Shimon Hatzaddik train station, located on Shimon Hatzaddik street north of the Old City and not far from the Municipality building.
Shortly after the attack one of the wounded - identified as a border policeman - was pronounced dead on his way to Hadassah Ein Kerem Hospital in Jerusalem. A total of five victims are being described as in "serious" condition, at least two of whom are critical and "fighting for their lives" according to reports. At least two others are "moderately" wounded.
The terrorist was shot dead at the scene by Border Patrol officers.
The attack was similar to one that occurred in October, in which a terrorists rammed his vehicle into a crowd waiting for a train in Jerusalem. In a statement, Netanyahu said at the time that Abbas's incitement was behind that attack as well.
Speaking Wednesday, Netanyahu added that "we are using all the efforts at our disposal to restore quiet and security to Jerusalem. This may be a very long struggle, and we will use whatever resources we need to deal with it."
Several other senior Israel officials have also blamed Abbas for inciting the recent deadly wave of violence.
Responding to news of the attack, Economics Minister Naftali Bennett said Abbas bears full responsibility.
"Abbas was the driver of the death car in Jerusalem, and the terrorists are only his emissaries," he said. "The State of Israel must state with a clear voice that the Fatah-Hamas government is a terrorist authority and we must act against it accordingly."
Jerusalem Mayor Nir Barkat similarly accused the PA leader of trying "to create havoc in Jerusalem."
"We will not let that happen," he vowed.
Likud MK and the party's Central Committee Chairman Danny Danon specifically cited "the letter of support by the chairman of the Palestinian Authority for the previous terrorist (who shot Yehuda Glick last Wednesday - ed.)," labeling it "fuel for the current terrorist."
Apart from sending a letter of praise to the family of the would-be assassin, Abbas and other PA officials have repeatedly glorified and encouraged the escalating violence in Jerusalem, with Netayahu previously lamenting the lack of international response as "hypocrisy."