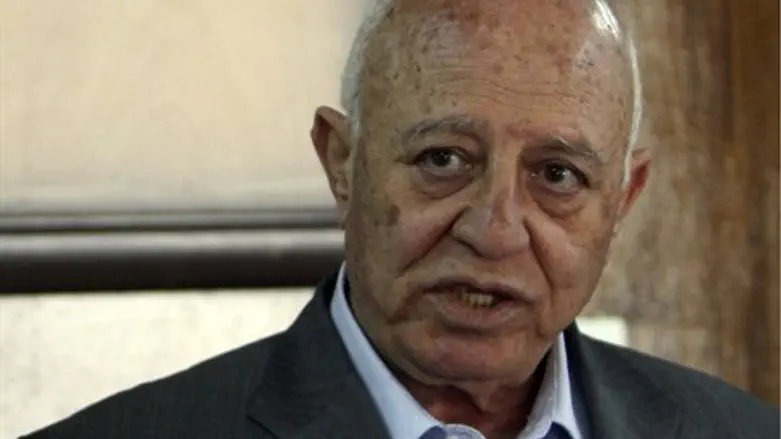 Ahmed Qurei, Egyptian Mohammed Ibrahim
Issam Rimawi/Flash 90
Last Wednesday morning, hours before Temple Mount activist Yehuda Glick was shot by an Arab would-be assassin at an event at the Begin Heritage Center in Jerusalem that night, former Palestinian Authority (PA) Prime Minister Ahmed Qurei called for "immediate intervention" against the event.
The shocking revelation was made by Palestinian Media Watch (PMW), which translated a statement released in the official PA news agency WAFA last Wednesday morning by Qurei, also known as Abu Alla, who is a senior member of the Palestine Liberation Organization (PLO) Executive Committee.
In his statement, Qurei warned of "extremist biblical plans encouraging settlers and extremist Jews to carry out large-scale invasions of the Al-Aqsa Mosque and calling on the entire Jewish nation to invade the Mosque."
Glick at the conference called for Jewish prayer rights at the Temple Mount - the holiest site in Judaism - where the Jordanian Waqf (Islamic trust) has discriminated against Jews through its de facto control of the site, and Prime Minister Binyamin Netanyahu has gone along with their "status quo."
Qurei added Jerusalem is "undergoing one of the most dangerous periods since the beginning of the Israeli occupation," and called for "immediate intervention in order to protect the 'first direction of prayer' (Jerusalem) and rescue it from the threat of Judaization."
The call for "intervention" by Qurei, who last December said that Jews "defile" the Temple Mount, echoes PA Chairman Mahmoud Abbas's call last month to block Jews from "defiling" the Mount by "any means necessary," in a call for violence eerily reminiscent of former PA Chairman Yasser Arafat's initiation of the 2000 Second Intifada.
Abbas's call for violence was given heavy rotation on official PA TV, being played 19 times in three days late last month and an additional seven times since, reports PMW. The PA has likewise praised Glick's shooter as a "hero defending freedom."
The PA incitement to violence in Jerusalem has only continued; a cartoon in the official PA daily Al-Hayat Al-Jadida on Sunday shows a father and son in front of a police barrier at the entrance to the Dome of the Rock, with the father giving his son a slingshot and saying "purification before prayer is performed with stones."
Official PA daily cartoon Palestinian Media Watch
A similar cartoon was posted in the PA daily on Saturday, showing an Arab rioter on top of the Dome of the Rock with a slingshot while giving blood to the Dome through an IV feed.
PA fueling terror on the Temple Mount
Palestinian Media Watch