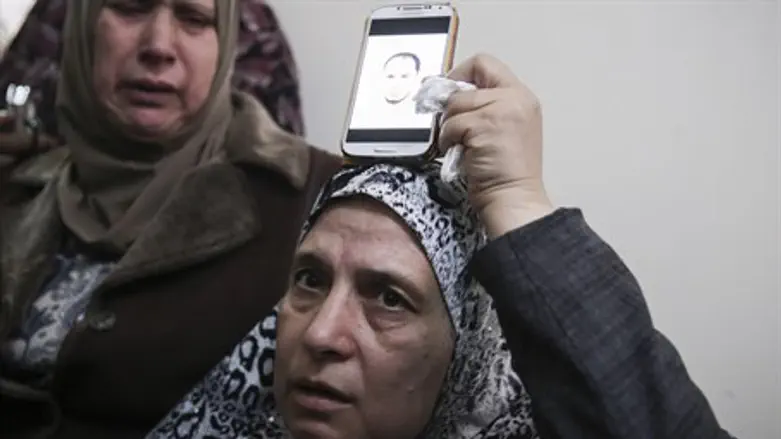 Mother of terrorist Mu'taz Hijazi
Hadas Parush/Flash 90
Palestinian Authority (PA) Minister of Prisoner Affairs Issa Qaraqa on Thursday lionized Mu'taz Hijazi, the Islamic Jihad terrorist who tried to assassinate Temple Mount activist Yehuda Glick in Jerusalem on Wednesday and was later killed in a shootout with police.
"Hijazi was one of the heroes of the Palestinian prisoners' movement who defended freedom and dignity," Qaraqa wrote in a statement published by the Palestinian Arab Ma'an News Agency.
Calling Hijazi a defender of "freedom and dignity" is particularly ironic, given the fact that he shot Glick who has championed the effort to gain Jewish prayer rights on the Temple Mount - the holiest site in Judaism - where the Jordanian Waqf (Islamic trust) has banned Jewish prayer and discriminated against Jewish visitors.
The praise comes on the heels of similar lauding by PA Chairman Mahmoud Abbas's Fatah faction, which called the terrorist a "heroic martyr" while declaring Friday a "day of rage" in a call for terrorism in Jerusalem, Judea and Samaria.
Qaraqa related how Hijazi was arrested in December 2000 during the Second Intifada for terrorism charges and sentenced to six years in prison.
In 2003 he assaulted a prison guard, leading his sentence to be extended by another two-and-a-half years. And again in 2011, he assaulted two more prison guards, earning him another three year extension.
Despite his total of over 11 years in jail for terrorism charges, after being released Hijazi was employed at the Terasa restaurant in the Begin Heritage Center where he shot Glick on Wednesday, leaving many questioning employment practices and background check systems of Arab employees.
Qaraqa said he visited Hijazi after his release in 2012, where he was told "life in Israeli prison was as merciless as hell."
The appraisal may strike some as odd given the preferential treatment jailed terrorists receive in Israeli prisons, as revealed by officials. Those perks have included cable TV, more cell space than criminals, and the ability to buy whatever they like from the canteen.
Released terrorists have revealed on PA official TV how they enjoyed a life of ease in Israeli prisons. They have also in the past been allowed to pursue a university degree by taking academic courses.