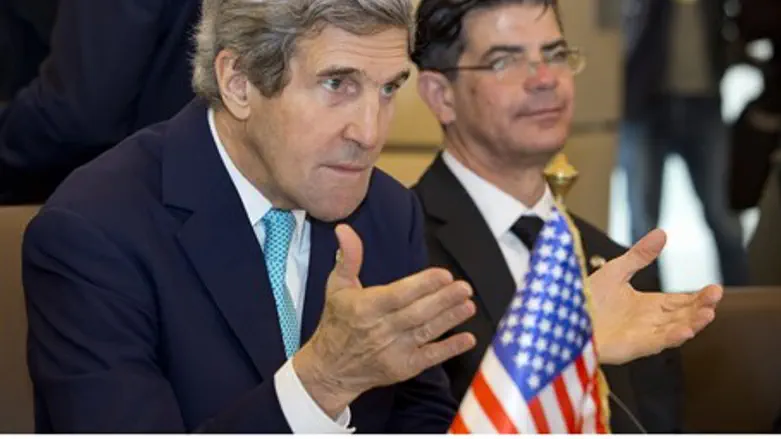 John Kerry
Reuters
U.S. Secretary of State John Kerry on Thursday night reiterated a call issued earlier by his spokeswoman, Jen Psaki, to open the Temple Mount to Muslim worshipers.
Kerry's call came in a statement in which he condemned the shooting of Temple Mount activist Yehuda Glick. In the same statement, Kerry also called for "restraint" on the part of all sides.
"I strongly condemn yesterday's shooting of a U.S. citizen outside the Menachem Begin Heritage Center in Jerusalem. My thoughts and prayers are with the family. The State Department is in touch with authorities as we seek more information," said Kerry in the statement.
"I am extremely concerned by escalating tensions across Jerusalem and particularly surrounding the Haram al-Sharif/Temple Mount," he continued. "It is absolutely critical that all sides exercise restraint, refrain from provocative actions and rhetoric, and preserve the historic status quo on the Haram al-Sharif/Temple Mount – in word and in practice. The continued commitment by Israelis, Palestinians, and Jordanians to preserve the historic status quo at this holy site is critical; any decisions or actions to change it would be both provocative and dangerous."
"The Haram al-Sharif/Temple Mount must be re-opened to Muslim worshipers and I support the long-standing practices regarding non-Muslim visitors to the site, consistent with respect for the status quo arrangements governing religious observance there," said Kerry.
"I am in close touch with senior Israeli, Jordanian, and Palestinian leaders to try to deescalate the situation. I urge the leaders of all three parties to exercise decisive leadership and work cooperatively together to lower tensions and discourage violence, alleviate restrictions on Muslim worshipers, and reinvigorate long-standing coordination mechanisms and relationships that have served over the decades to preserve the historic status quo as it pertains to religious observance and access to the site," he added.
Kerry's comments came after Israel temporarily closed the Temple Mount for Jews and Muslims, following the assassination attempt on Glick the night before. His call essentially repeats comments made earlier Thursday by Psaki in a press briefing.
Psaki criticized Israel for closing the compound and urged the Jewish state to reopen the Al-Aqsa Mosque to Muslims, in a show of concern for prayer rights that may seem ironic to many given the lack of criticism on the Jordanian Waqf's (Islamic trust) ban on Jewish prayer at the Temple Mount - the holiest site in Judaism.
The demand of "status quo" at the site where Arab riots have become a daily occurrence echoes calls for status quo by Prime Minister Binyamin Netanyahu, and comes as the wave of Arab terror continues to spiral after a lethal attack in Jerusalem last week in which an Arab terrorist killed a three-year-old baby and a 22-year-old woman with his car.
Psaki's statement came the same Thursday that Palestinian Authority (PA) Chairman Mahmoud Abbas's Fatah faction called for a "day of rage" on Friday, while praising the assassination attempt on Glick.
Israel was quick to cave in to the chorus of international criticism, and decided to reopen the Temple Mount on Friday - but for Muslims only, not for Jews.