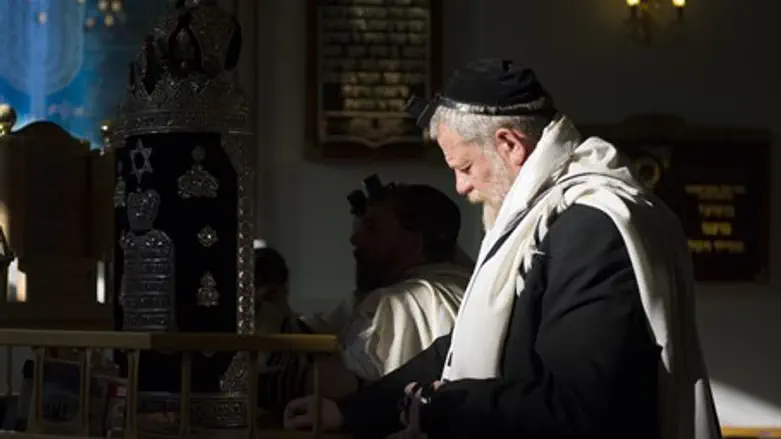 European Jews in Belgium
Flash 90
For the first time, Israel's Foreign Ministry is set to discuss, with representatives of the European Union (EU), the jihadist terror threat against Jewish communities in Europe. 
Israel and the Commission of the European Union will hold the eighth meeting of experts discussing how to combat anti-Semitism and racism, in Jerusalem on October 27 and 28. 
Anti-Semitism has been on the rise in Europe the past few years, with many attributing this fact to increasing Muslim populations throughout Europe. Tensions and attacks particularly flared anew over the summer during Israel's Operation Protective Edge. 
The dialogue subjects will include the attack on the Jewish Museum of Belgium in Brussels in June of this year - where a gunman opened fire and killed 4 people, including 2 Israeli citizens; the threat of jihad on European Jewish communities; the increased levels of anti-Semitism in the European Union; and the continued trend of growing anti-Semitism on the Internet and how to deal with it. 
Also to be discussed are the responses to initiatives to prevent ritual slaughter and circumcision throughout Europe, preserving the memory of Holocaust education, tolerance in place of anti-Semitism, as well as encouraging the use of Interfaith Dialogue as a tool for reducing racism and anti-Semitism. 
The dialogue will be opened festively by Yuval Rotem, head of Public Diplomacy in the Foreign Ministry's office. 
The Israeli delegation will include Akiva Tor, head of the Diaspora and Religions Ministry of Foreign Affairs, and Gideon Bachar, director of the department to combat anti-Semitism in the Foreign Ministry. Experts from Yad Vashem, the State Attorney's Office and the Association of Israeli Students will also participate. 
Ambassador Lars Faaborg-Andersen, head of the EU Delegation to Israel and Chiara Adamo, head of the Fundamental Rights and Children's Rights of the EU, will lead the European Union delegation. Joining them are diplomats and officials engaged in the fight against anti-Semitism and racism.