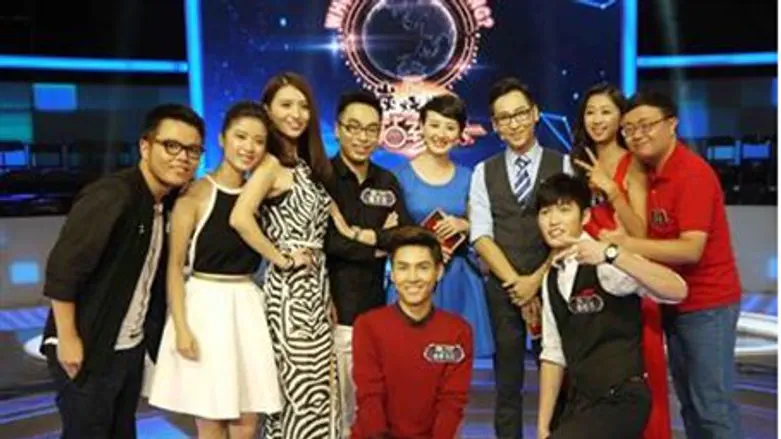 Contestants on China's TV show "Who's Still S
China TV
Lechao Tang, a 24-year-old Chinese student pursuing a master's degree in Bible and the Ancient Near East, at the Hebrew University's Rothberg International School, represented the university (and Israel) on China's highest-rated game show.
Tang, originally from Wenzhou, was invited by China's national TV channel to participate in the knowledge entertainment competition "Who's Still Standing" against students from Harvard, Yale, Cambridge and other leading universities.
The program is an adaptation of Israel Channel 10's hit TV game show Lauf al Hamiliyon, in which contestants compete in trivia battles. If someone gives the wrong answer they plummet into a hole.
This season, in honor of the National Day of China, the competitors are all students from top universities in China and around the world. 
In the first episode, Lechao defeated a female student from the University of Cambridge in the United Kingdom. Lechao then joined a team of Chinese international students competing against a team of Chinese domestic students. Both episodes can be found on Youtube. 
Regarding his role on the show, Lechao said, "I'm glad to be a link between the Hebrew University and my home country of China. It's an exciting cultural opportunity for me to introduce Hebrew U to China from the point of view of a Chinese student. The hosts of the TV show are a couple and they've been to Israel. They shared an anecdote about the wife placing a note in the Western Wall for good luck to have a baby — and this year they had a son! They also showed a video I made of my classmates' multilingual blessings wishing me luck." 
Lechao completed his undergraduate degree at the University of Oregon in the US. He originally majored in linguistics but quickly fell in love with Judaic studies. "I couldn't resist the beauty of the Hebrew language, so I chose to study further," he says.
While in Oregon, he was appointed the first Hebrew tutor from China in the university's history. Today he teaches Hebrew online through "One-Man University," a non-profit Chinese educational start-up. He also maintains a personal blog where he introduces Hebrew and Israel to Chinese Internet users.
Lechao sees many similarities between the Jewish and Chinese peoples, from customs to festivals and philosophies. "I believe that these two important peoples should cooperate in the course of globalization. My people should know more about the Jewish people and vice versa. And I would like to be a messenger between them," he said.
Hebrew University student Lechao Tang
Hebrew University