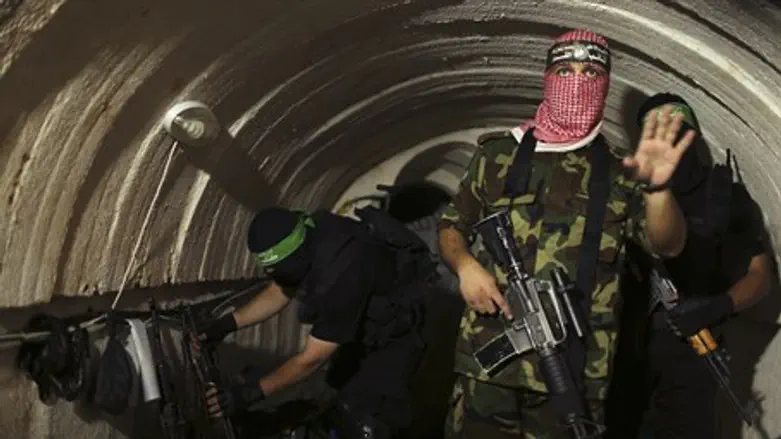 Hamas terrorists inside Gaza "terror tunnel"
Reuters
A senior Hamas official threatened Israel with violence on Saturday.
Khalil al-Haya, a member of Hamas's political bureau, said that Israel will be the first to pay the price for the delay in rebuilding Gaza after the recent war.
Speaking with Hamas's Al-Aqsa TV, Al-Haya said that the demands placed as conditions for rebuilding Gaza "hurt the feelings of the Palestinian people, and they will blow up the region."
He went on to warn that the Gazan public's patience is running out, and that if the "occupation" does not meet the agreements signed in Cairo, a military response may be required. Al-Haya stressed that the Al-Qassam Brigades, Hamas's so-called "armed wing", is able to withstand any Israeli "aggression".
Israel has demanded that Gaza be demilitarized as a condition for its rehabilitation, while Hamas has demanded an airport and a seaport.
Hamas has repeatedly declared that it would reject any attempts to disarm the terrorist groups in Gaza, while Israel has outright rejected Hamas's demands for an airport and seaport.
While Prime Minister Binyamin Netanyahu originally conditioned the rehabilitation of Gaza on its disarmament, the issue did not come up at an international donors' conference on rebuilding Gaza, which was held in Cairo.
Israeli officials admitted that in reality, the rehabilitation of Gaza was not contingent upon its demilitarization but only on a ceasefire, adding that Israel will demand the demilitarization in return for the continued development of the coastal enclave.
Al-Haya's comments come hours after another Hamas official, Mahmoud Al-Zahar, declared the constant cycle of violence in Jerusalem an "intifada".
"Escalating the resistance in the city is the solution to Israeli aggression," Zahar told Hamas news agency Al-Risala.