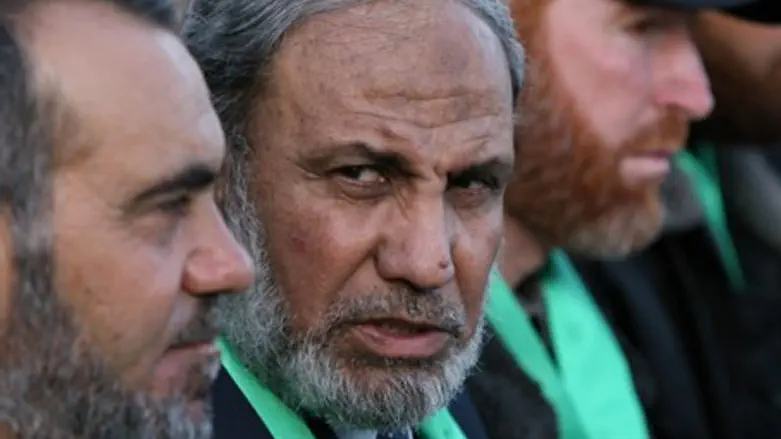 Hamas leader Mahmoud al-Zahar (center)
Flash 90
Hamas official Mahmoud Zahar, declared the constant cycle of violence in Jerusalem an "intifada" on Saturday night, making rumors of a so-called "silent intifada" official despite declarations from the Israeli security establishment that statements to that effect are exaggerated.
"Escalating the resistance in the city is the solution to Israeli aggression," Zahar told Hamas news agency Al-Risala. 
Zahar also slammed the Hamas-Palestinian Authority (PA) "unity government"'s security coordination with Israel. 
"The security coordination is a problem in that is suppresses the intifada against Israeli aggression," he stated. "The people in the West Bank [Judea-Samaria -ed.] are fighting on two fronts: the first is the Israeli occupation and the second is the PA's security forces." 
Zahar's declaration surfaces just days after security officials told Israel Radio that "the Palestinians are not interested in a third intifada" and that all talk over the extreme cycle of violence in the capital has been overhyped. 
According to the most recent Israel Security Agency (ISA or Shin Bet) report on Jerusalem, terror has risen dramatically in the city since then - from 22 incidents in May and June to 152 in July and August, a whopping 509% increase. 
While the Israel Police stated at the end of September that over 600 arrests had been made, it did little to stop the constant cycle of violence. 
While the "silent intifada" has so far not been named by officials as a full-fledged Arab uprising, Science and Technology Minister Yaakov Perry (Yesh Atid), formerly the head of the Israel Security Agency (Shin Bet), warned Thursday that the situation in Jerusalem is a "ticking time bomb" which will lead to a full-fledged third intifada.
Cracks in unity government?
The announcement also marks yet another crack in the facade of the Hamas-PA "unity government," which has been slowly crumbling over the past several months - despite recent efforts to present a "united front" to the international community. 
Differences of opinion have surfaced over several issues, including the war in Gaza, reactions to the abduction and murder of three Israeli teenagers, and the delayed payment of wages for government workers in Gaza in the weeks leading up to Operation Protective Edge. 
But those differences turned the factions explicitly against one another after Hamas staged dozens of executions of Palestinian Arabs allegedly "collaborating with Israel" - or working for Fatah - prompting at least one Fatah official to compare Hamas to global jihadist group Islamic State (ISIS).
The IDF and the Israel Security Agency (ISA or Shin Bet) revealed last month that a large-scale coup had been planned by Hamas in Judea and Samaria to overthrow the PA and Abbas's Fatah party, in orders given from Hamas officials abroad. 
Since then, Hamas has also refused the PA's demands that it supervise rebuilding in Gaza - furthering sowing discord between the two factions. 
It was also Fatah who exposed Hamas's human trafficking operation of Palestinian civilians to Europe earlier this month.