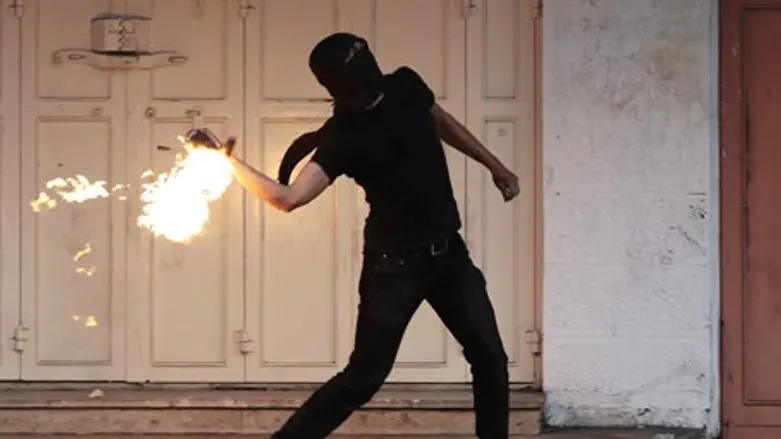 Arab terrorist throws firebomb
Reuters
Israeli troops shot dead a Palestinian Arab teenager Friday during clashes with rock-throwing protesters near Ramallah, Palestinian medical officials and security sources told AFP.
They named the dead youth as Orwa Hammad, 17, and said he was shot in the village of Silwad.
The IDF said that troops opened fire towards the teenager upon identifying that he was preparing to throw firebombs towards a local road. The troops opened fire in order to prevent him from hitting Israeli vehicles.
"The forces fired immediately to neutralize the danger ... and confirmed a hit," a spokeswoman said, according to AFP.
The incident is the latest in a series of ongoing riots, rock attacks and firebomb attacks by Arabs, which has come to be known as the "silent intifada".
Perhaps the most serious of these attacks was Wednesday's terrorist attack at the Jerusalem Light Rail station at Ammunition Hill, in which a terrorist ran over several people, killing a three-month-old baby and injuring others.
While the "silent intifada" has so far not been named by officials as a full-fledged Arab uprising, Science and Technology Minister Yaakov Perry (Yesh Atid), formerly the head of the Israel Security Agency (Shin Bet), warned Thursday that the situation in Jerusalem is a "ticking time bomb" which will lead to a full-fledged third intifada.
(Arutz Sheva's North American desk is keeping you updated until the start of Shabbat in New York. The time posted automatically on all Arutz Sheva articles, however, is Israeli time.)