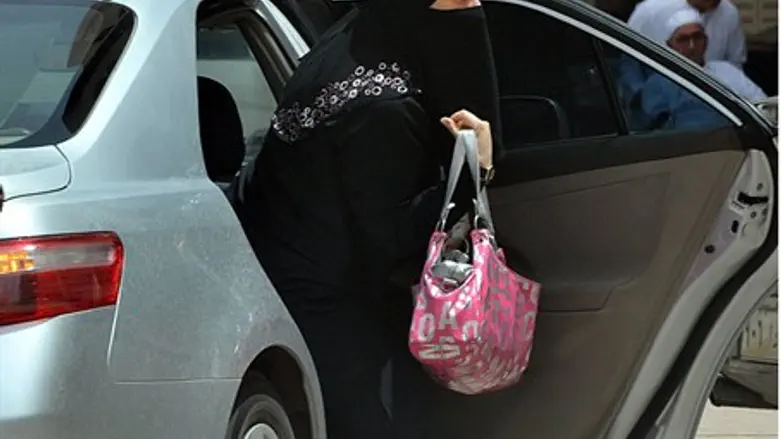 Saudi woman gets out of car
AFP photo
Female drivers in Saudi Arabia will be dealt with "strictly", authorities said on Thursday, according to AFP, before a right-to-drive campaign culminates on the weekend.
The kingdom is the world's only country where women are not allowed to operate cars.
Activists said in early October they were revving up their campaign using social media.
But the interior ministry said it will "strictly implement" measures against anyone who "contributes in any manner or by any acts, towards providing violators with the opportunity to undermine the social cohesion".
The statement was carried by the official Saudi Press Agency.
Activists have encouraged women to post pictures of themselves driving on Twitter under the hashtag #IWillDriveMyself, as well as on Instagram, YouTube and WhatsApp.
More than 2,700 people have signed an online petition, part of a long-standing campaign aimed at getting the Saudi Arabian driving ban lifted.  In past situations where women were caught driving, their male relatives were asked to sign statements saying they would not allow the women to drive again.
Many women have driven since the campaign was launched in 2011, some of them have posted videos of them doing so, and many have been arrested and forced to sign a pledge that they will never drive again.
Activists told AFP that every day "two or three" women have shared pictures of themselves driving via WhatsApp.
But they say nothing special is expected for the campaign's peak on Sunday.
"We just ask the ladies who need to drive, to drive as usual on the 26th" or on another day, said one activist, Nasima al-Sada.
Aziza al-Yussef, who says she runs errands in her car two or three times a week, said the campaign was about "raising the voice" and making their demand heard -- but not by doing anything illegal such as a demonstration.
Activists argue that women's driving is not against the law.
Last year, noted AFP, activists also focused their demands on October 26 -- which they simply call a "symbolic" date as part of efforts to press for women's right to drive.
At least 16 were fined for taking the wheel on that day.
Saudi Arabia, with its religious police enforcing Sharia law, has a far from stellar record on women's rights and on human rights in general.
Nevertheless, Saudi Arabia last year won a seat on the UN Human Rights Council, along with other countries with questionable human rights records, including China, Russia, Algeria, Cuba and Vietnam.