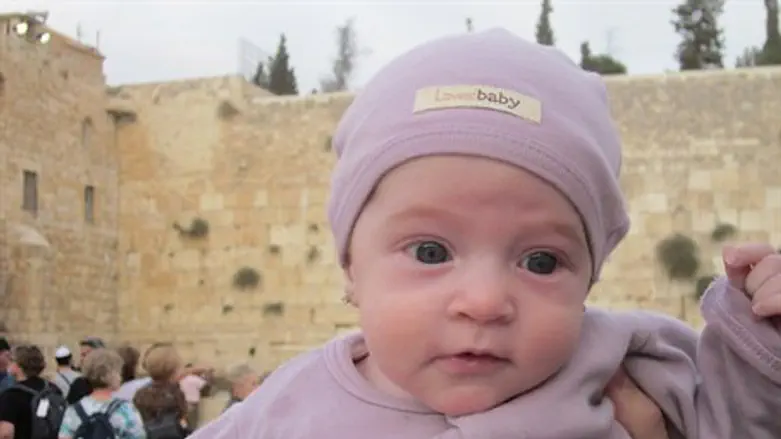 חיה זיסל הי"ד
באדיבות המשפחה
This is the last picture taken of Chaya Zisel Braun, the three-month-old baby girl murdered last night when an Arab terrorist drove his car into a crowd of people at a Jerusalem Light Rail station.
The picture was taken at the Kotel (Western Wall) where her parents were praying just hours before her life was tragically cut short as the family made their way home.
Later Wednesday evening, grandfather Shimon Halperin recounted how the couple had been childless for many years and were overjoyed when they finally gave birth to a daughter.
"Her parents waited for a child for many years during which they did not merit to have children," he told reporters, recounting how he used to enjoy playing with her. "Today they were coming back frompraying at the Kotel and a terrorist came and ran over their baby."
"The parents are in trauma and are trying to digest the news."
At the funeral, father Shmuel Elimelech led a tearful eulogy of his infant daughter.
"You were pure. I want you to look down at me and smile. Tomorrow is your three-month birthday. It's all now in God's hands. We will remember you," he cried.
The attack was praised by Hamas, as well as by at least one senior Palestinian Authority figure, who praised the killer - Abdelrahman Shaludi - as a "heroic martyr."
Meanwhile, violence has continued in Jerusalem since the deadly attack, with Palestinian thugs attacking a Jewish kindergarten and several rock-throwing incidents resulting in at least one injury Thursday.
The murder of such a young infant has left Israelis particularly shocked and angry, and Israeli Prime Minister Binyamin Netanyahu has vowed "the harshest response" to any further terrorist attacks.
"Jerusalem is united and was, and always will be, the eternal capital of Israel. Any attempt to harm its residents will be met with the harshest response," Netanyahu said Thursday afternoon.
Earlier, he placed the blame firmly on the shoulders of PA president Mahmoud Abbas.
"This is how Abu Mazen [Palestinian Authority Chairman Mahmoud Abbas - ed.]'s partners in government act, the same Abu Mazen who – only a few days ago – incited toward a terrorist attack in Jerusalem," the Prime Minister said.