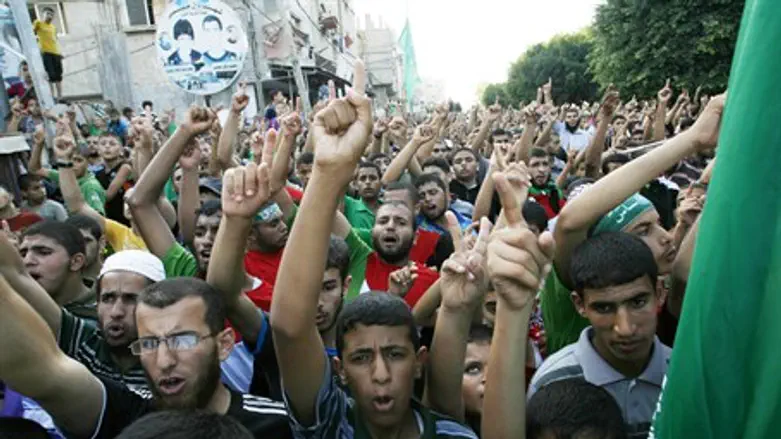 Hamas rally in Gaza (file)
Flash 90
A Hamas spokesman openly welcomed news of a terror attack in Jerusalem by one of its terrorists, which left nine people injured and killed a three month-old baby.
"This is a natural response to the crimes of the occupation and invasion of our land by the Jews, particularly on the Al-Aqsa Mosque (Temple Mount - ed.)," Hamas spokesman Hossam Badran stated on official Hamas television. 
Hamas television has also confirmed the identity of the terrorist - who was shot and wounded by police, but is not dead, as initially reported in the press - as 21 year-old Abdelrahman Shaludeh of Shiloach (Silwan). Slodi had previously served in Israeli prison for terrorist activities. 
On Wednesday, Shaludeh rammed his car into the pedestrian crosswalk near the Ammunition Hill (Givat Hatachmoshet) light rail stop, injuring nine people, including the baby. 
The baby was later named as Chaya Zisel Braun, hy"d. The baby's grandfather stated that her parents had been "waiting for years" to have children and had been returning from the Western Wall (Kotel) when the terrorist attacked.