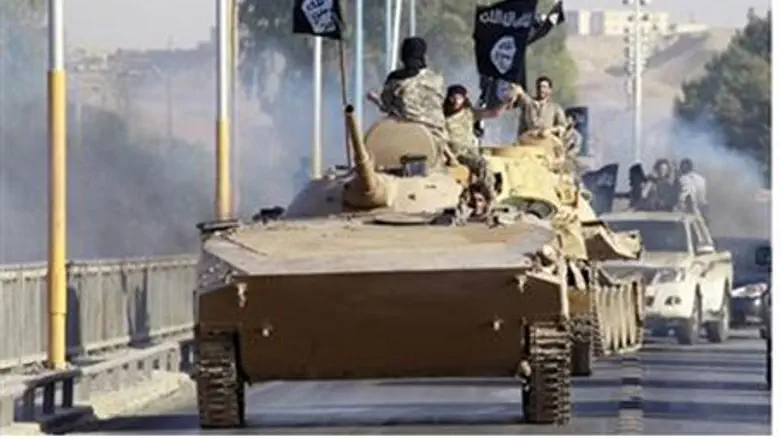 ISIS fighters parade in Raqqa, Syria
Reuters
Israel has been providing the international coalition to defeat Islamic State (ISIS) with intelligence, Defense Minister Moshe Ya'alon confirmed Monday - but has no intention of physically joining the campaign. 
Ya'alon revealed Israel's involvement during an interview with PBS's Charlie Rose. 
First, however, he expressed confidence in the operation - specifically the chances of eliminating ISIS leader Abu Bakr al-Baghdadi 
"If you enjoy intelligence superiority, and air superiority, [then] in the end, you know, he should be found and he can be targeted," Ya'alon stated. "I believe it's possible." 
Ya'alon deflected the idea that Israel would join the coalition itself, however. 
"We have enough challenges - apart from ISIS, which is far from us," he lamented. "But, you know, we have a very good relationship with many parties who participate in the coalition. First of all [we have] the United States, and some other Western parties, as well as Arab parties."
"By having this bilateral relationship - sharing intelligence, and so forth - this is our contribution to the operation," he added. 
Rumors have been swirling for some time that Israel has provided the US with intelligence on the terror organization, but Ya'alon's statements mark a rare official confirmation of that fact. 
Israel, meanwhile, has been fighting ISIS on the domestic stage as well - seeking to eradicate a growing trend for Israeli and Palestinian Arabs to pledge allegiance to the group. After government sources revealed earlier this month that some 30 Israeli Arabs have been confirmed to have joined ISIS; a political campaign has started to revoke citizenship for the foreign nationals.