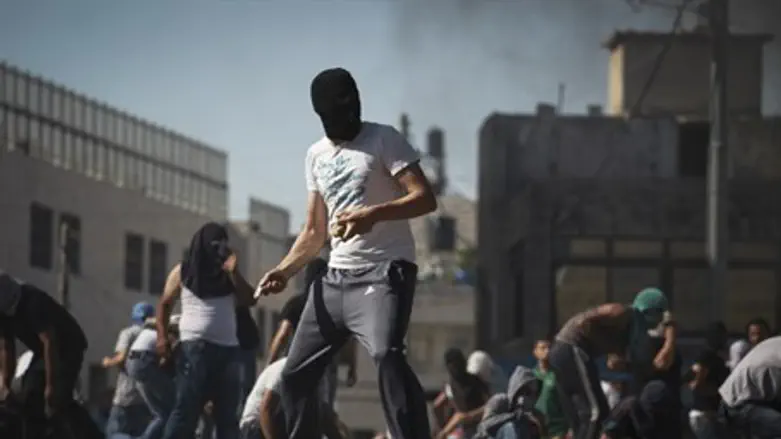 Arab riots in Jerusalem (file)
Flash90
Arab rioters hurled Molotov cocktails at an apartment building in a flashpoint Jerusalem neighborhood just hours after Jewish families moved in, police said Tuesday.  
No one was injured in the incident in the Kfar Shiloach neighborhood (known as Silwan in Arabic) late on Monday, which saw a group of Palestinians firing flares and throwing petrol bombs at the building, a police statement said.
No serious damage was caused and no arrests were made.
The building was one of two structures housing 10 apartments that were purchased by Jews before dawn on Monday, sparking fierce opposition from Arab locals who oppose any Jewish presence in the area.
The neighborhood is located adjacent to the City of David, an area thought to be the heart of the Jewish capital in Biblical times located just south of the Old City.
The families took residency in nine housing units in "Beit Ovadia" and "Beit Frumkin," located in the "Yemenite Village" area of Shiloach that was founded by Jewish immigrants from Yemen in the 1880s, who were later expelled by the British in 1938 following violent Arab rioting.
Arab extremists have rioting and carrying out violent attacks in Jerusalem on a daily basis for months, in what many local residents refer to as a "silent intifada". Rioters have targeted police, as well as Jewish residents of the capital. 
Islamist activists on the Temple Mount - Judaism's holiest site - have also upped a campaign of harassment and intimidation of Jewish visitors, egged on by incendiary statements by prominent Muslim figures including PA chief Mahmoud Abbas.
Riots on Temple Mount
Israel's national police chief Yohanan Danino on Tuesday vowed to restore order on the Temple Mount.
"We cannot ignore public disorder incidents; stone-throwing, attacks with fireworks, throwing of petrol bombs, which characterise riots on Temple Mount and other areas in the city and its surroundings," he told officers.  
"Jerusalem residents are entitled to a high level of personal security...and the issue is at the top of Israel Police's priorities," he said in remarks carried on the police's official Twitter feed.  
Clashes in Shiloach also erupted three weeks ago after Jewish families moved into more than 25 apartments in the area that they purchased from local Arabs.
Ateret Cohanim, an Israeli organisation aiming to strengthen the Jewish presence in Jerusalem said the acquisitions would double the number of Jews living in that part of Shiloach. 
Despite the fact that all apartments were purchased legally in a neighborhood of the capital of Israel, White House Press Secretary Josh Earnest earlier this month said "the US condemns the recent occupation of residential buildings in the neighborhood of Silwan."
Earnest also said the new residents have an "agenda [that] only serves to escalate tensions." His usage of the word "occupation" in describing the legal taking possession of ownership sparked ire among Jewish organizations and in Israel.
Prime Minister Binyamin Netanyahu responded saying "Arabs in Jerusalem buy apartments and no one bothers them. By the same token, I'm not going to tell Jews not to buy in Jerusalem, including in Silwan. We cannot have discrimination; this approach is unacceptable to me."
AFP contributed to this report.