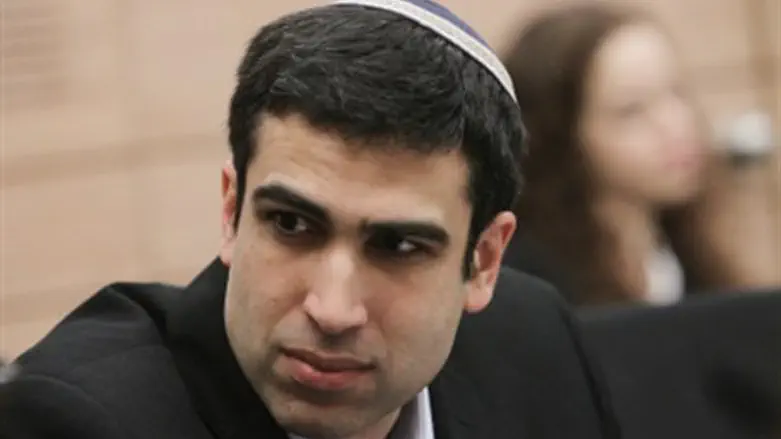 MK Yoni Chetboun
Israel news photo: Flash 90
MK Yoni Chetboun (Jewish Home), Chairman of the Knesset Caucus for Israel in France, sent a letter to the mayor of Paris suburb Valenton Monday morning calling for a name change to a street named after arch-terrorist Marwan Barghouti. 
Barghouti, who has called for an armed uprising against Israelis on multiple occasions since his imprisonment, is currently serving five life sentences in Israeli prison for his role in planning suicide terror attacks. Despite that, he is viewed as the favorite candidate to eventually replace aging Palestinian Authority (PA) Chairman Mahmoud Abbas. 
Chetboun, who hails from France himself, called the decision to name the street after the murderer "outrageous." 
"To bestow your honors upon a murderer like Barghouti is nothing short of moral bankruptcy," Chetboun wrote to mayor Françoise Baud.
Chetboun stressed that "this is an unfortunate decision that contradicts the [values of] morality and justice which are the foundation of the French Republic." 
Chetboun also warned that the move gives a "green light" to Islamism in France, at a time when over 1,000 French nationals are estimated to have already fled their native land to go fight with Islamist extremist group ISIS. 
"In these days when the free world is fighting raging Islamic fundamentalism in the Middle East, be it Hamas or Hezbollah or ISIS, glorifying the name of an assassin is a slap in the face," he fired.
"Is this the face of France, which claims to be the capital of Freedom and Justice in the Western world?" he continued. 
Chetboun concluded by calling on Baud to reverse the decision. 
Legal action is already being taken against Baud, after the National Bureau for Vigilance Against Anti-Semitism, or BNVCA, filed a complaint to the police over the decision last week. They also asked an administrative court to void the naming. 
 BNVCA founder Sammy Ghozlan told the Jewish Telegraphic Agency on Wednesday that the decision was a "celebration of murder" and is "unacceptable." 
"This is a signal that encourages more attacks on Jews," he added.
During the naming ceremony, Baud - who runs the suburb like a commune and is a member of the French Communist Party - called Barghouti "the face of the unwavering resistance of the Palestinian people against the occupation, the crimes, the destruction, the apartheid and the colonization perpetrated by the Israeli government."
A separate naming ceremony was held for a street named in honor of anti-apartheid activist Nelson Mandela, a move which a Simon Weisenthal Center official later stated to the news agency was an insult to the former South African leader.