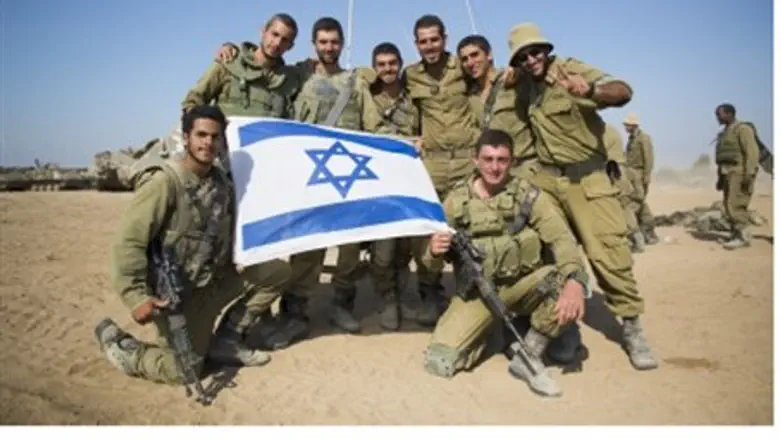 IDF soldiers.
Flash 90
IDF spokesman Brigadier General Moti Almoz spoke Monday morning addressing an upcoming update of IDF soldiers' living expenses (monthly salaries).  
"Soldiers do not get paid for their military service, but rather living expenses," Almoz informed. "The problem is the increase in cost of living recently. In 2015, the monthly payments will be updated for the first time in many years."
He said that the IDF is currently undertaking legislation to raise soldiers' salaries.
The announcement comes a month after a group of dozens of IDF soldiers sent a letter to Prime Minister Binyamin Netanyahu complaining about the pithy military salaries.
In the letter, the soldiers claimed that they were paying for military equipment out of their own pockets, and that soldiers without parents able to help were falling into poverty. 
The IDF revealed the list of basic necessities upon which IDF soldiers' pay had been based for nearly three decades. Lawyers in the case noted that the outdated list proves soldiers are underpaid, as even the basics as described in 1986 now cost four times the minimum IDF salary.
The list puts goods into four categories: "hygiene and cleaning," "food and drink," "writing materials," and "various." At the time the list was created, the goods in question cost an estimated 72 shekels per month.
In 2002, the sum was updated to 352 shekels a month. However, until this year it had not been updated since, and lawyers in the case note the list of basics would cost 1,241 shekels each month in 2013.
General Almoz discussed these issues in his speech. "Soldiers come from a variety of backgrounds, and among them there are also soldiers who come from families with financial problems." 
He added: "It is important to emphasize that the salaries will not be large amounts, but we do must ensure that a soldier has everything he needs to support himself. We want to reach a monthly amount of about 800-1000 NIS per soldier." 
"We want and know how to reach everyone," the army spokesman stressed. "Sometimes it takes time to get to the problem, but we listen to all problems." 
The IDF spokesman also addressed the complaint filed by vegan soldiers who claim that the IDF does not satisfy their dietary needs.
"We understand our role and understand that the reality of a progressive and developing society is that these things will happen," he said. "We are engaged in finding a solution." 
General Almoz also spoke about the false "Code Red" alarms sounded last month, saying that the IDF is examining the system of the sirens and their sensitivity.