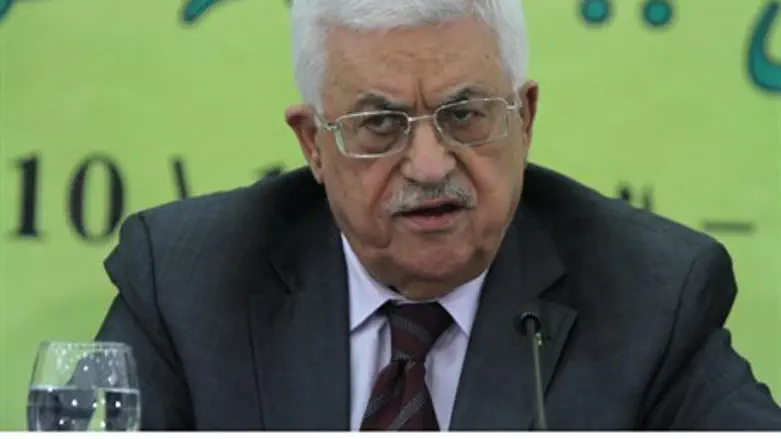 Mahmoud Abbas
Flash90
Palestinian Authority (PA) Chairman called Jews visiting the Temple Mount a "herd of cattle" on Saturday, less than 24 hours after he incited violence against Jews visiting Judaism's holiest site and called to prevent their access "by all means."
"The Palestinian leadership will be taking the necessary legal measures, at the international level, regarding the aggression of settlers on the Al-Aqsa mosque," Abbas said in a speech to the Revolutionary Council of his Fatah party.
"We will not allow settlers to attack the mosque," he added, referring to Jews visiting the site as a "herd of cattle." 
On Saturday, Abbas called all Israelis "settlers" for visiting the site, which is besieged by Arab rioters who have forced Israel's police to close the Mount to Jews over the past several weeks on multiple occasions. 
"It is not enough to say the settlers came, but they must be barred from entering the compound by any means. This is our Aqsa... and they have no right to enter it and desecrate it," Abbas said.
The Chairman's words have already evoked outrage from Foreign Minister Avigdor Liberman (Yisrael Beytenu), who called Abbas an "anti-Semite" on Saturday night. 
"These words reveal, again, the true face of Mahmoud Abbas, the Holocaust denier who talks about a 'Palestinian state free of Jews,'" the Foreign Minister fired. 
Abbas "was, and remains, an anti-Semite wrapped in a nice suit and pleasantries for the international community," he added, accusing the Chairman further of "stirring up incitement against Israel and Jews and calling for a religious war."