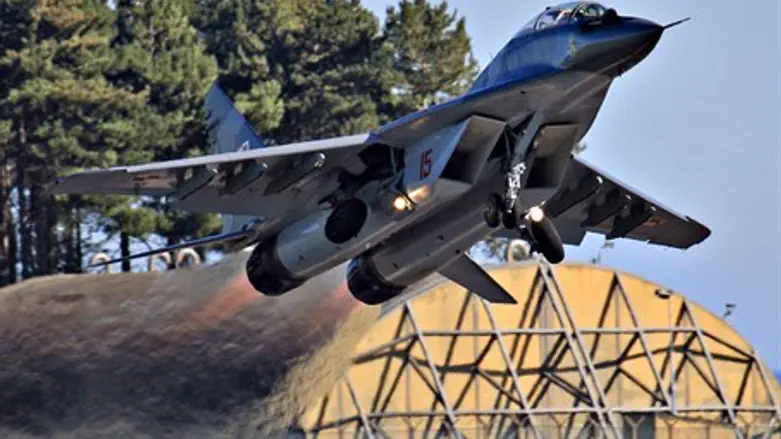 MiG fighter jet (illustration)
Flash 90
The Britain-based Syrian Observatory for Human Rights revealed on Friday that the brutal Islamic State (ISIS) terror group has begun training pilots on three captured fighter jets, relying on the knowledge of Iraqi pilots who have joined the group.
Rami Abdul Rahman, director of the monitoring group, said witnesses in northern Syria have seen the group flying the three MiG 21 or MiG 23 model jets above the al-Jarrah airbase east of Aleppo, in the first instance of ISIS going airborne, reports Reuters.
"They have trainers, Iraqi officers who were pilots before for (former Iraqi President) Saddam Hussein," said Abdul Rahman. "People saw the flights, they went up many times from the airport and they are flying in the skies outside the airport and coming back."
ISIS has captured several fighter jets during its conquest of Syria and Iraq. In August it captured several MiGs when it took Tabqa airbase in northern Syria from President Bashar Assad's forces.
Meanwhile the US, which has been leading an international coalition in conducting airstrikes against ISIS, was also training locals to fly fighter jets according to Lebanese reports in Arabic.
The report in Al Mayadeen on Friday cited "reliable sources" saying America is training pilots "from countries in the Middle East" to conduct airstrikes in Syria.
The sources added that the training is taking place on the aging British BAC 167 Strikemaster training jet in the Barry M. Goldwater Air Force Range along the Mexican border in Arizona.
Also cited in the report was the Boeing A-10 Thunderbolt II, a twin-engine aircraft meant for air support and bombing, which it was suggested may be delivered to pilots in the Syrian rebel forces at some later point.
While the identities of the jet fighter trainees was not disclosed, the US has been amassing ties with various entities in the fight against ISIS.
State Department spokesperson Jen Psaki on Thursday revealed the US is working directly with Kurdish fighters to defend the city of Kobane along the Turkish-Syrian border from ISIS, despite Turkey's opposition to the Kurdish groups.