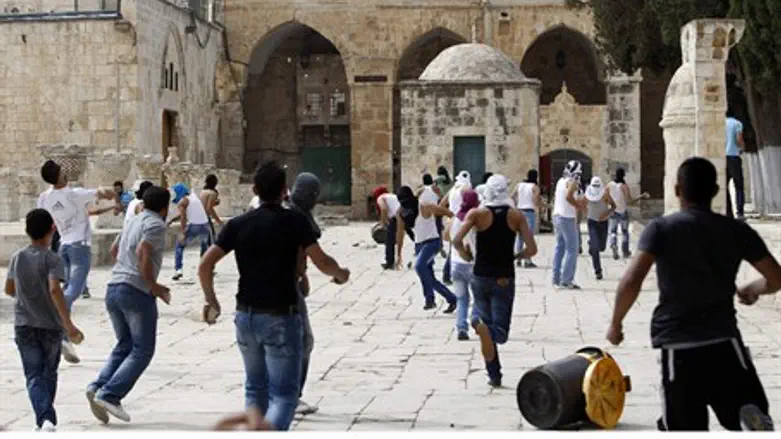 Arab riot on Temple Mount (file)
Reuters
Anticipating yet another Muslim "day of rest" on Friday punctuated by the explosions of fireworks, rocks and general mayhem on the Temple Mount, the holiest site in Judaism, Jerusalem District Police Chief Yossi Pariente decided to limit entry for Muslim visitors.
Muslim male visitors will be limited to those over the age of 50, in an attempt to limit the young Arab rioters expected to return to their increasingly frequent occupation of violent clashes with police to block Jewish entry.
According to intelligence information received by the police, Arab youths are indeed planning to riot after Friday morning prayers. Police and Border Patrol forces will be deployed from the early morning hours in eastern Jerusalem and the Old City to try and prevent riots.
However, many are left wondering if they will succeed, after similar moves to limit entry to Muslim males over 50 while allowing Muslim females of all ages on Hoshana Raba Wednesday, the last day of the Jewish holiday of Sukkot, still ended with Jewish entry being cancelled due to the violent riots.
Only 103 Jews were able to visit the holiest site of Judaism on the holiday before the closure, during riots in which at least three police officers were lightly hurt by Muslim rioters throwing rocks at them at a gate to the Temple Mount, in rioting that in places was reportedly led by Arab MKs.
While only Muslims aged over 50 were allowed in, they too exhibited contempt for the Jewish pilgrims, shouting wildly at them. Jewish activists reported that the Muslims were conducting raucous prayers in the Temple Mount plaza, while Jews were still forbidden from any kind of prayer by the Jordanian Waqf (Islamic trust) that holds de facto control of the site.
The rioters on the Mount, part of a recent wave of violence in Jerusalem, were caught off guard on Monday when police stormed the Temple Mount and locked them inside the Al-Aqsa Mosque.
The youths had collected rocks and fireworks and prepared firebombs, which they stored inside the Al-Aqsa Mosque in order to use them against police and interfere with non-Muslim visits to the Mount.
That same day in Ramallah, UN secretary general Ban Ki-Moon slammed the enforcement as a "provocation," saying "I am...deeply concerned by repeated provocations at the holy sites in Jerusalem. These only inflame tensions and must stop."
Rabbi Shmuel Rabinowitz, the rabbi of the Kotel (Western Wall) and Holy Sites, last week decried the Arab attempts to wreck the week-long Sukkot holiday by violently rioting to block Jewish visitors, warning the Temple Mount has been turned into a "terror base."
Speaking to Arutz Sheva, the rabbi argued that the Arab rioters are intentionally trying to prevent Jews from reaching the site on Sukkot, one of the three Jewish pilgrimage holidays that in ancient times required Jews to travel to the Temple in Jerusalem.