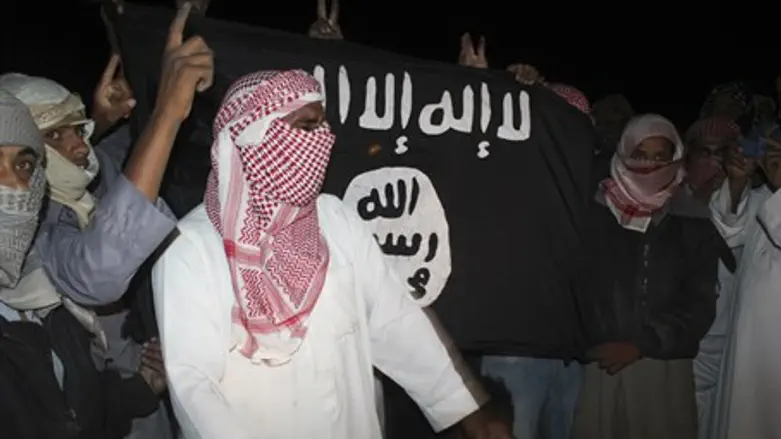 Al-Qaeda supporters in the Sinai
Reuters
A large factory for manufacturing rockets in the Sinai was discovered and destroyed by Egyptian security forces, the blogger Elder of Ziyon reported on Tuesday, citing Egyptian media.
Authorities said that the rockets were being manufactured for the Ansar Bayt al-Maqdis jihad group.
Five tons of explosive materials were discovered and destroyed, according to the blog.
Egyptian security officials have always claimed that Hamas and Gaza terror groups were involved in Sinai terror activity. While those claims often seem exaggerated in their hate for everything related to the Muslim Brotherhood, in this case it seems that they are onto something.
According to Elder of Ziyon, it seems likely that the Sinai jihadists have learned rocket manufacturing techniques from the Gaza terror groups, meaning that the Egyptian crackdown on tunnels and travel between Gaza and Sinai really does have a solid security rationale behind it.
Ansar Bayt al-Maqdis has killed hundreds of Egyptian soldiers and police over the last year, since the ouster of Muslim Brotherhood President Mohammed Morsi, and beheaded several people in recent weeks, saying they were spies for Israeli intelligence.
Among the attacks claimed by the group since the ouster of Islamist president Mohammed Morsi was the assassination of a top Egyptian police general, who was gunned down as he left his home in a west Cairo neighborhood, and a bus bombing on a tour bus filled with South Korean tourists in the Sinai. 
The group has also claimed responsibility for several rocket attacks that targeted the Israeli resort city of Eilat, claims which might now be verified after the discovery of the rocket factory.