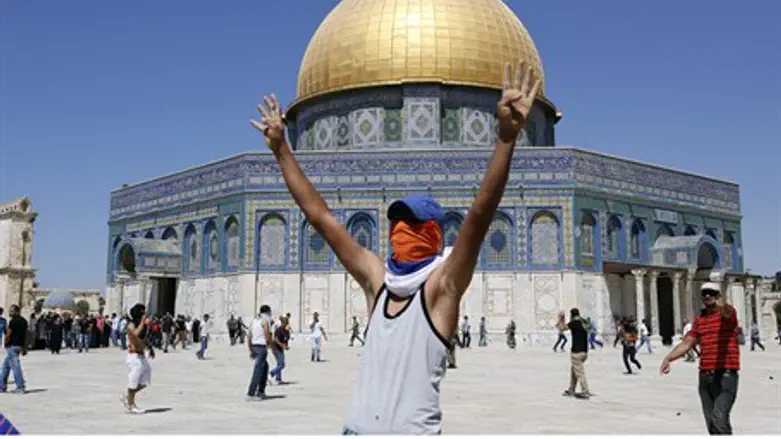 Arab rioters on the Temple Mount
Flash 90
The Israel Police will restrict the entry of Muslim worshipers to the Temple Mount on Wednesday, due to intelligence information that was received about plans by Arabs to riot at the compound, as they have done several times already in recent days.
The decision was made by the Jerusalem District Commander of the police following an assessment conducted Tuesday evening.
According to the decision, only Arab men over the age of 50 and women of any age will be allowed to enter the compound. Police will be deployed starting early Wednesday morning in eastern Jerusalem and the Old City to prevent disturbances.
The Jerusalem Police said that "the police will have zero tolerance towards any party who tries to disturb public order."
On Monday morning, the Jerusalem Police stormed the Temple Mount and locked Arab rioters inside the Al-Aqsa Mosque.
The police had gathered intelligence about Arab youths who had spent the night at the Temple Mount compound. The youths had collected rocks and fireworks and prepared firebombs, which they stored inside the Al-Aqsa Mosque in order to use them against police and interfere with non-Muslim visits to the Mount.
Rabbi Shmuel Rabinowitz, the rabbi of the Kotel (Western Wall) and Holy Sites, decried last week the Arab attempts to wreck the week-long Sukkot holiday by launching violent riots against police and Jewish visitors on the Temple Mount, the holiest site in Judaism.
Speaking to Arutz Sheva, the rabbi argued that the Arab rioters are intentionally trying to prevent Jews from reaching the site on Sukkot, one of the three Jewish pilgrimage holidays that in ancient times required Jews to travel to the Temple in Jerusalem.
"The Arab leadership's feigned ignorance in the face of these acts of violence by young rioters is shocking," said Rabbi Rabinowitz. "How can they deny the reality that the Temple Mount and the (Al-Aqsa) mosque has been turned into a terror base?"