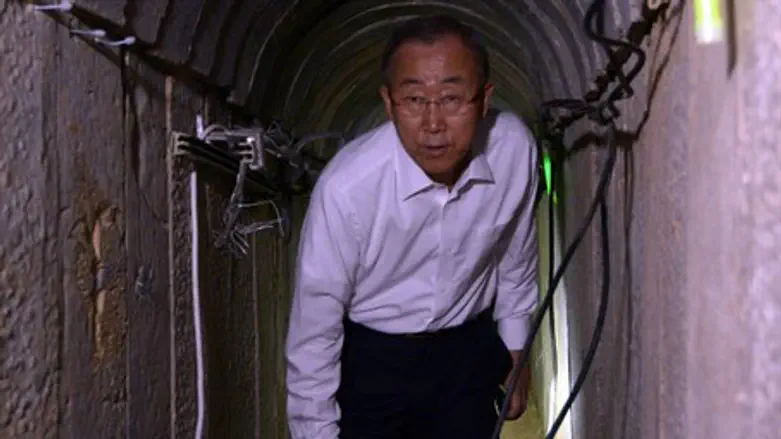 Ban Ki-Moon visits Hamas terror tunnel
Chaim Tzah, GPO
UN Secretary General Ban Ki-Moon was given a tour of the Gaza Belt region on Tuesday by the IDF, revealing to him the area hit hardest by Hamas's recent terror war on Israel - while there, he was shown the terror tunnels Hamas prepared with foreign aid materials to attack Israel.
"I was shocked by the tunnels used for the infiltration of terrorists. No one needs live under the constant threat and fear of rockets and tunnels digging underground," said Ban.
However, despite seeing the tunnels meant for killing Israeli civilians by Hamas, which recently formed a unity government with the Palestinian Authority (PA), Ban still called for "peace talks" in Cairo with the terrorist group.
"I called on the Palestinian and Israeli leaders to sit together and return to peace talks, that's the only way for the two peoples to enjoy peace, security and harmony," said Ban.
Hamas has in fact already restarted construction on the terror tunnels as revealed in numerous reports, and has bragged that the IDF didn't destroy all of the tunnels.
Regardless of that, and the fact that humanitarian materials were siphoned by Hamas to build the tunnels in the first place, Israel began transporting more construction materials into Gaza on Tuesday as a "humanitarian gesture" including 600 tons of cement, 50 truckloads of aggregate and 10 truckloads of steel.
While in the region, Ban also met with the parents of 4-year-old Daniel Tragerman hy''d of Kibbutz Nahal Oz, who was killed by a mortar shell after Hamas broke one of the last ceasefires in Operation Protective Edge before the current temporary truce. Daniel's mother Gila wrote Ban a letter asking him to accuse Hamas of "war crimes," as he accused Israel of the same day Daniel was murdered.
On Sunday, as he took part in a global donor event in Cairo that pledged $5.4 billion to rebuild Gaza after Hamas's recent terror war, Ban did just the opposite, justifying Hamas's terrorism by saying the cause of hostilities is "arestrictive occupation that has lasted almost half a century."
A day later in Ramallah, Ban slammed "settlement building" despite Prime Minister Binyamin Netanyahu's covert building freeze against Jews in Judea, Samaria and eastern Jerusalem.