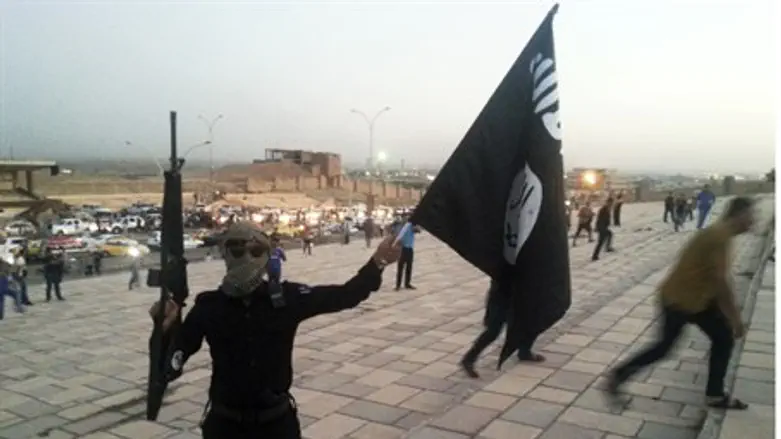 ISIS terrorist (file)
Reuters
At least 30 Israeli Arabs have joined Islamic State (ISIS) over the past year, sources in the government revealed Tuesday - and Israel is looking to revoke the citizenship of Israelis who have flocked to the terror group. 
Spearheading the effort to revoke citizenship is Tourism Minister Uzi Landau (Yisrael Beytenu), who sent a letter to Prime Minister Binyamin Netanyahu Tuesday morning over the issue. 
"These are people who live in Israel as citizens, and as such, they enjoy a long list of rights, as well as access to a large and sensitive information," Landau stated. "It is but a question of time before these people, who live among us, become a lethal weapon directed against us."
"This is a serious phenomenon, which could gain momentum and change into a sword over our heads," he urged. "It is our duty as a government, society and the state to take action to eradicate this from our midst."
"Every Israeli citizen must know that Israel will act ruthlessly against the activity of the ISIS organization, whether serious or minor," he added. 
Israel has seen a number of specific cases of ISIS activity, both in and out of its borders, over the past several months. 
On Monday, an Israeli Arab rumored to have joined ISIS confirmed to his parents that he was there and is doing "fine."
And last week, a bag full of the group's black flags was found in Nazareth Illit. Just two days prior, an Israeli Arab teacher was sentenced to one week of house arrest and a 5,000 shekel (approximately $1,350) fine for possessing numerous ISIS materials.
Terrorists with Islamic State also released video showing how they took part in the recent terror war against Israel in Gaza, and at least one former ISIS jihadist was killed in the Gaza fighting.
The jihadist group's activities around Israel was most dramatically displayed earlier this month, when ISIS in Gaza claimed an attack on the French Cultural Center in the Hamas-run enclave. The incident would mark ISIS's first attack in Gaza.
Israel is not the first to consider revoking citizenship to its nationals who join ISIS, as well. In December, worldwide hysteria over a growing number of radical Muslims from the West joining the group culminated in the quiet revocation of UK citizenship of British Islamists found to be fighting with the group.