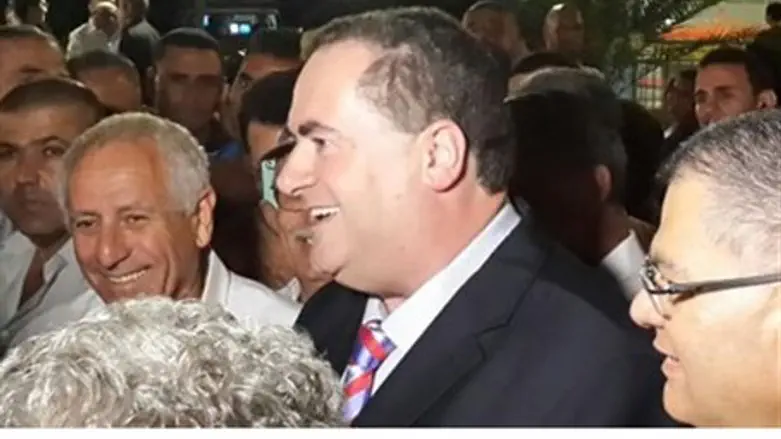 Min. Katz at reception.
PR photo
About 3,000 people attended the traditional Sukkot reception at the home of Transport Minister Yisrael Katz (Likud).
Among those attending was Culture Minister Limor Livnat, Coalition Chairman MK Yariv Levin, Deputy Transport Minister Tzipi Hotovely, Knesset Foreign Affairs and Defense Committee Chairman MK Ze'ev Elkin, Knesset Labor and Welfare Committee Chairman MK Haim Katz, and MKs Gila Gamliel and Moshe Feiglin, all from Likud.
"The next time they offer us a quote-unquote 'arrangement,' that includes retreating from territories in exchange for securities and the placement of international forces, we will send them to do homework with ISIS in Kurdistan," said Katz, who is considered hawkish in Likud ranks.
He also called for setting a date for the election of Likud's candidate for prime minister, as soon as possible. "Likud will contend independently in the next elections and the mission is to ensure 30-plus mandates for Likud in the next elections," he declared. "We must make sure that most of the ministers in the next elections will be Likud members."
Likud ran for the last elections in a joint list with Yisrael Beytenu, which later split again from Likud. The joint list was not very successful, receiving a total of 31 seats, and after the parties split again, Likud remains with a paltry 19 seats, the same as Yesh Atid.
Minister Katz boasted of "an unprecedented revolution" in the field of transportation infrastructure, including new roads, interchanges, and bridges, new railway tracks in the Negev and Galilee and a new rail line being prepared between tel Aviv and Jerusalem. "And in three years' time, on the holiday of Sukkot, we will make pilgrimage to Jerusalem in the fast train. Twenty-eight minutes from Tel Aviv and 20 minutes from Ben Gurion Airport. We will even be able to declare a special discount: free transport to Jerusalem on the Three Regalim."
The Three Regalim are the holidays of Sukkot, Pesach and Shavuot, on which Jews were enjoined to make pilgrimage to the Holy Temple, before it was destroyed.