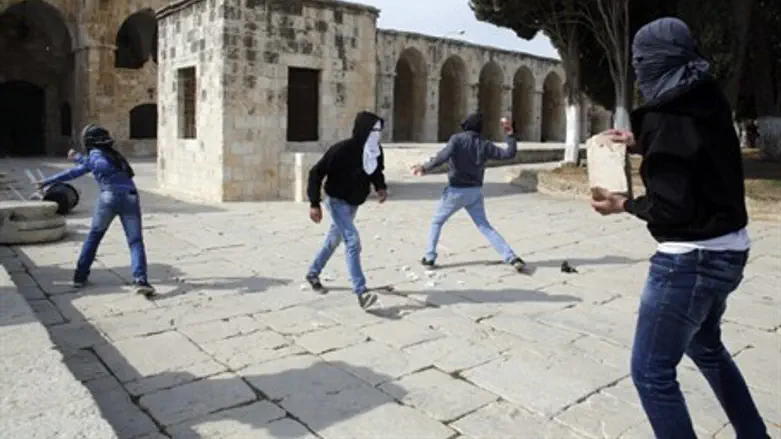 Arab rock throwers on Temple Mount
Flash 90
Hours after Arab rioters attacked Israeli security forces at the Temple Mount, Jordan criticized Israel on Wednesday over security forces' conduct in reaction to the riots.
"The forces of the occupation ... prevented religious officials entering (the compound) and cleared it of all Muslims, while at the same time enabling Jewish extremists to storm it, and pray with security forces protection," government spokesman Mohammed Momeni said in a statement quoted by the AFP news agency.
He called on Israel to "stop its devastating campaign against the Al-Aqsa mosque, religious officials and worshippers," slamming "police... firing bullets and bombs inside the compound, which injured dozens of people."
Jordan, whose Waqf has had de facto rule of the Temple Mount since the 1967 Six Day War, made the comments after masked Arab rioters threw fireworks and rocks at security forces on the Temple Mount on Wednesday, hours before the Jewish holiday of Sukkot.
Riot police pushed the attackers back by setting up roadblocks, but it was not enough to deter the unrest.
The rioters continued to throw rocks, bricks and iron bars at police from inside the Al-Aqsa mosque, while shooting fireworks at police and spraying an unidentified flammable liquid on them.
They also threw a firebomb at police, which ignited, wounded four officers lightly.
The police later restrained the rioters and removed all barriers protecting the entrance to the mosque. The wounded policemen were treated on the spot.
The Jordanian Waqf keeps an iron fist on the Temple Mount and its activities; Jews face constant discrimination and violence for visiting the site, and there is a blanket ban on Jewish prayer there. 
Muslims and Christians, however, have free reign to worship at and visit the Mount - the IDF even allowed 500 Gazans to ascend to the Mount as a "gesture" during peace talks with Hamas in Cairo - and the Jerusalem Arab community recently celebrated the Eid al-Adha holiday there on the same day as Yom Kippur. 
This is not the first time that Jordan has condemned Israel over issues related to the Temple Mount. In June, Jordan took issue with Israel allowing 400 Jews to ascend the Mount.
(Arutz Sheva's North American desk is keeping you updated until the start of the Sukkot holiday in New York. The time posted automatically on all Arutz Sheva articles, however, is Israeli time.)