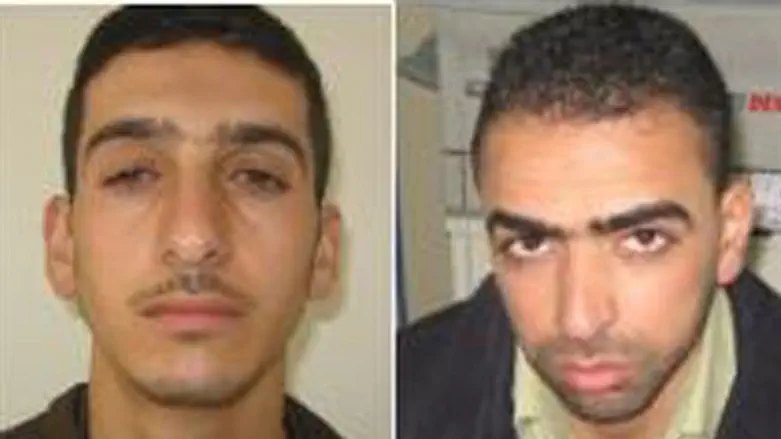 Marwan Kawasmeh (L), Amar Abu-Eisha
Israel Security Agency
The IDF eliminated the murderers of Israeli teens Naftali Frenkel (16), Gilad Sha'ar (16), and Eyal Yifrah (19) several weeks ago, in a move which provided closure for the teens' parents - and a large honorary procession for the killers bearing Hamas flags.
But the mother of one of the murderers believes her son is a "hero," newly translated footage reveals Monday - and so does the Palestinian Authority (PA), which published the interview on its official TV station. 
The footage, translated by Palestinian Media Watch, shows the mother of terrorist Marwan Kawasmeh praising her son as "noble, pure and modest... a hero among heroes" and said his "martyrdom" proved "Allah loved him." 
The interviewer also describes the events of the murder as being on "Zionist hatred time" and gave both Kawasmeh and fellow terrorist Amar Abu-Eisha the lofty title of official marytrs, or shahids. 
This is not the first time the PA has glorified "matryrdom" - or given significant press time to a terrorists' mother who did the same.
The PA's official WAFA news agency also lauded the teens' murders in print, PMW noted last week. Coverage of the elimination called the IDF operation a "cold-blooded execution," and sparked remarks from PA officials deriding the "assassination" of the terrorists as a "premeditates crime" which "violated international law." 
And just weeks earlier, similar remarks were made by the mother of 16 year-old Mohammed Khder, who was killed in a "revenge killing" for the teens in July. 
Abu Khder's mother called for violent "revenge" against Israelis after the murder, saying the violence was expressing "concern for the Palestinian people" and a form of "exercising their rights." 
As a result, Jerusalem has been plunged into what has been dubbed a "silent intifada" - an explosion of terrorism and unrestrained violence in Arab neighborhoods in the capital.