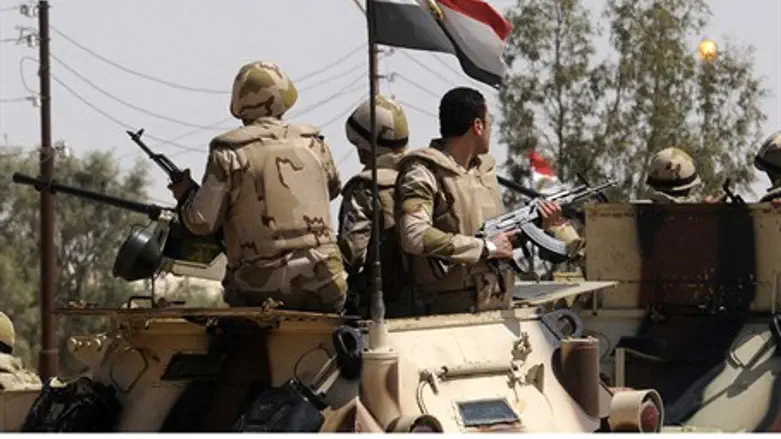 Egyptian security personnel
Reuters
The IDF's Southern Command has reinforced its forces along Israel's southern border, a senior IDF officer revealed Sunday, due to rising unrest in the Sinai Peninsula. 
On Thursday, the Egyptian Army eliminated a major terror leader in the peninsula, the head of the ISIS-linked Ansar Bayt Al-Maqdis group. 
Mohamed Abu Shatiya, who took part in the kidnapping of seven Egyptian soldiers in Sinai last year, died during fighting with the army south of Rafah, on the border with Gaza.
Terror attacks in Egypt have eased over the past month as the military squeezes their hideouts in the sparsely inhabited peninsula, analysts have noted - and could ease even further with the elimination - but IDF officials told Walla! News Sunday that the extra deployment is a necessary precaution. 
"The Egyptian Army has raised the volume on its terror crackdown, and they in turn have increased their efforts to harm Egypt," the officer stated. 
An additional reason behind the deployment is the number of ISIS 'copycat' attacks in the peninsula, he added - noting that beheaded bodies have been found 'continually' in the Al-Arish area over the past several weeks. 
Thus, the IDF has "decided not to take unnecessary risks," he said, for fear that members of Ansar Bayt Al-Maqdis will turn to attacking Israeli targets in an attempt to destabilize the region. The group has claimed responsibility in the past for several rocket attacks that targeted the Israeli resort city of Eilat.
The Southern Command has increased its posts along the Gaza-Egypt border near Rafah, commanders in the field said, adding that the Egyptian Army "faces significant challenges." 
But more than just the regional threat of Ansar Bayt al-Maqdis, the source added, the deployment is also to fend off an increase in infiltrations from Gaza. 
Last week, two separate infiltration attempts were apprehended along the same border. One suspect was armed; the other was not. 
"Palestinians who have despaired of the situation in Gaza are jumping across the border with a knife, hoping to be arrested by the IDF," the source said. "We do not take a risks; in our view, such intrusion is taken as an attempted attack."