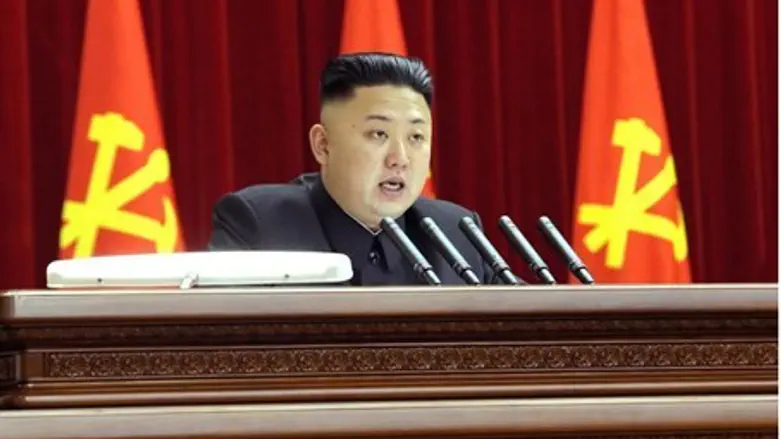 North Korean leader Kim Jong-Un
AFP photo
Rumors of a military coup in North Korea persist as leader Kim Jong-un's prolonged absence from public view continues. Kim has not been seen in public for a month, leading to rumors that a military coup has broken out in North Korea and Kim has been arrested. Other rumors have it that Kim has gout or has suffered a sort of stroke just as his late father, Kim Jong-il, did in 2008.
The US is aware of the reports. "I can just say that I have no confirmation of the reports. We've seen them, but we don't have any confirmation," State Department spokeswoman Jen Psaki told reporters Monday after a regular briefing. She declined to discuss the issue any further.
Kim Jong-un was last seen walking with a pronounced limp during a July ceremony commemorating the death of his grandfather, Kim Il-sung. He typically presides over the Supreme People's Assembly, a rubber-stamp parliament, but missed the meeting in early September, and was replaced by a propaganda video that again showed him limping. Vice News reported that the film's narrator said: "Despite some discomfort, our Marshal continues to come out and lead the people."
A former North Korean counter-intelligence officer said that Kim Jong-Un is no longer in control of the nation and is now just a 'puppet leader'. Jang Jin-sung, who used to be an influential officer in Kim Jong-il's propaganda division, made the assertion at a September conference in Holland attended by several elite exiles, according to Vice News.
The capital, Pyongyang, meanwhile, has been placed into lockdown with even the elite banned from entering or leaving, according to the the respected New Focus International news web site. This adds weight to Jin-sung's claim, as a North Korean expert said that this kind of measure is only put in place when a coup has taken place – or is suspected.
Jin-sung said that Kim Jong-Un was actually overthrown in 2013 and that the political strings in North Korea are being pulled by the powerful Organization and Guidance Department (OGD), which used to report directly to Kim Jong-il, Kim Jong-Un's father. North Korea is currently embroiled in a sort of civil war, he said in his speech.