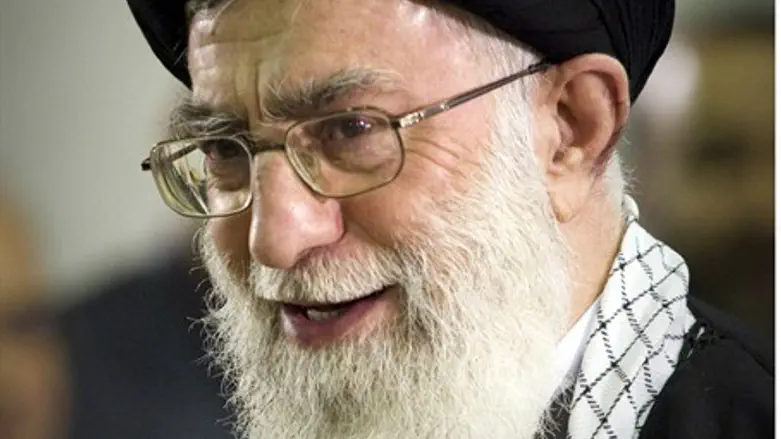 Ayatollah Khamenei
Reuters
Iranian Supreme Leader Ayatollah Ali Khamenei on Friday used his annual message to Hajj pilgrims heading to Mecca to insult Israel and call for its "annihilation."
The speech comes ahead of Eid al-Adha on Friday, the Muslim holiday celebrating Abraham's "sacrifice of Ishmael" in an appropriation of the original Torah story, and like his speech for Eid al-Fitr in July was replete with unfounded barbs hurled against the Jewish state.
"The conspiring enemy is aiming to stoke the fire of a civil strife among Muslims, to misdirect the motivation for resistance and jihad and to secure the Zionist regime and the servants of Arrogance (America - ed.) – who are the real enemies," said Khamenei referencing the bloody conflicts rocking the Muslim world.
Calling for Muslim unity against Israel, the same Friday that Arab MK Ibrahim Sarsour (Ra'am-Ta'al) called for the establishment of the "United Islamic States" and bashed Israel as being "crueler than ISIS (Islamic State)."
Khamenei likewise accused Israel of having "no limit or boundaries regarding viciousness, cruelty, and trampling underfoot all human standards and ethnics. Crimes, genocide, mass destruction, the killing of children, women and the homeless...they take pride in."
The statement is ironic given Iran's horrific human rights history; just this Monday it was reported that an Iranian psychologist was executed for "heresy" after eight years in prison, and on Wednesday Iran was to execute a woman who defended herself from rape.
Khamenei continued "contrary to the idiotic dreams of power and stability for this regime that the filthy officials of the Zionist regime dream, day-by-day this regime has moved closer to implosion and annihilation."
In response, Khamenei called for the Islamic Jihad and Hamas terrorist groups in Gaza to "reinvigorate their endeavor, determination and resolve...Muslim nations should require their governments to lend real and serious support to Palestine."
Iran supplied Hamas with rockets used in its recent terror war on Israel, and is continuing to develop its nuclear program even while engaged in nuclear talks with world powers.
Khamenei back in January publicly revealed that the negotiations with the US about Iran's nuclear program are merely a tactic to stall international pressure and gain time to continue nuclear development.