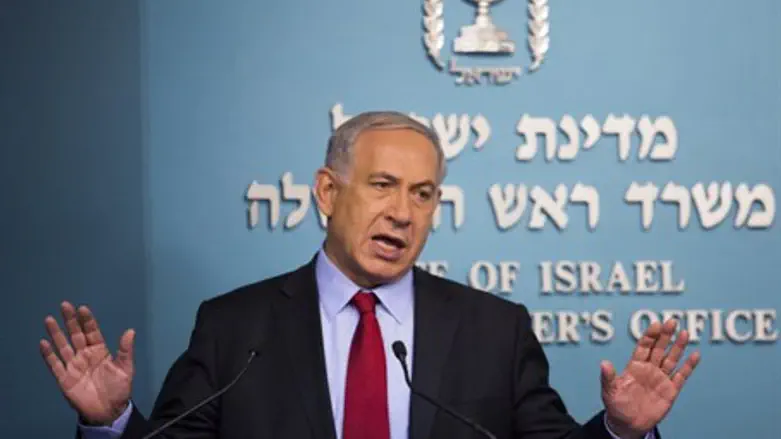 Binyamin Netanyahu
Flash 90
"I cannot tell a Jew that he is not allowed to purchase a home in Jerusalem," Prime Minister Binyamin Netanyahu told reporters on Wednesday night, hours after his meeting at the White House with U.S. President Barack Obama.
Netanyahu briefed the reporters on his meeting with Obama, which Israeli officials described earlier as good.
"We had a deep conversation for two hours," said Netanyahu. "We spoke about the new realities in the region and how to advance the peace process. We spoke at length about the Iranian issue and the danger of it developing nuclear weapons."
Netanyahu said that he spoke with Obama about the "Islamic State" (IS or ISIS) terrorist organization, adding, "Israel supports the battle against ISIS. We have an agreement with the United States that there is a new Middle East."
He continued, "IS and Hamas are not twins - they are brothers belonging to the same family and the same poisoned tree - they kill their opponents and both engage in terrorism against civilians."
The statement about Jews purchasing a home in Jerusalem was a reference to Washington's criticism earlier of Israel's approval of construction in the Jerusalem neighborhood of Givat Hamatos.
In response to the move, State Department spokeswoman Jen Psaki said the construction would send a "troubling message" and would "poison the atmosphere not only with the Palestinians but also with the very Arab governments with which Prime Minister Netanyahu said he wanted to build relations."
"As Prime Minister of Israel, I do not understand the criticism - Arabs in Jerusalem buy apartments and no one bothers them or rules them out. By the same token, I'm not going to say to Jews not to buy in Jerusalem, including in Silwan - we cannot have discrimination - this approach is unacceptable to me," he declared.
"It is the right of Jews to buy an apartment in Jerusalem - I stand firm by my decision, there will not be a situation where Jews will not be able to buy an apartment in Jerusalem," the prime minister reiterated.
Netanyahu confirmed to Arutz Sheva that he raised the issue of Jonathan Pollard's release in the meeting with the President.
"I told Obama that on the eve of Yom Kippur, a day on which there is forgiveness, the U.S. must free Jonathan Pollard." Netanyahu did not specify about Obama's response to his request.