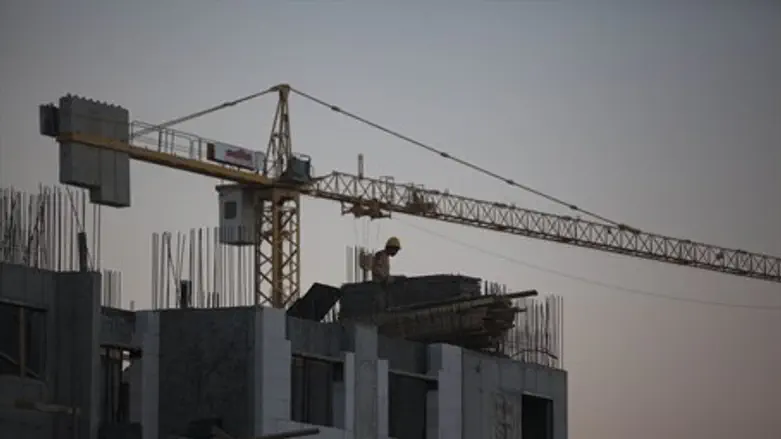 Construction site
Flash 90
Israel is to press ahead with the planned construction of 2,610 homes in Jerusalem, extreme leftist group Peace Now complained Wednesday to AFP.
The housing units, which have been slated for construction since 2012 in the neighborhood of Givat Hamatos, were given final approval last week, Peace Now said in a statement.
Peace Now spokeswoman Hagit Ofran told AFPthe government could now publish tenders for the project, but that it would be months before building actually began.
Ofran, true to the Peace Now agenda, also stated that the plans damaged prospects for peace and an eventual independent Palestinian state.
"Givat Hamatos is destructive to the two state solution," the organization said in a statement. "It divides the potential Palestinian state... (Prime Minister Benjamin) Netanyahu continues his policy of destroying the possibility of a two state solution."
The timing was a political decision, Ofran said, but the exact reason was unclear. 
Housing Minister Uri Ariel (Jewish Home) explained on Army Radio Wednesday that it was part of "the normal process of authorization necessary before any construction project in Jerusalem."
Palestinian Authority (PA) officials cried foul, however. Hanan Ashrawi, a leader of the Palestine Liberation Organization (PLO; the terror group behind the PA), slammed the Givat Hamatos plans, accusing in a statement that the Israeli government was more interested in "stealing land than making peace."
The announcement surfaces just hours after Housing Ministry figures revealed that the housing crisis has deepened - in no small part due to a "covert" building freeze in Jerusalem, Judea and Samaria. 
The construction freeze has checked the natural growth of a region that is reportedly over 90% unpopulated. It also, together with the green light given to rampant illegal Arab construction in eastern Jerusalem, is part of what is charged as being an attempt to establish facts on the ground to divide Jerusalem.