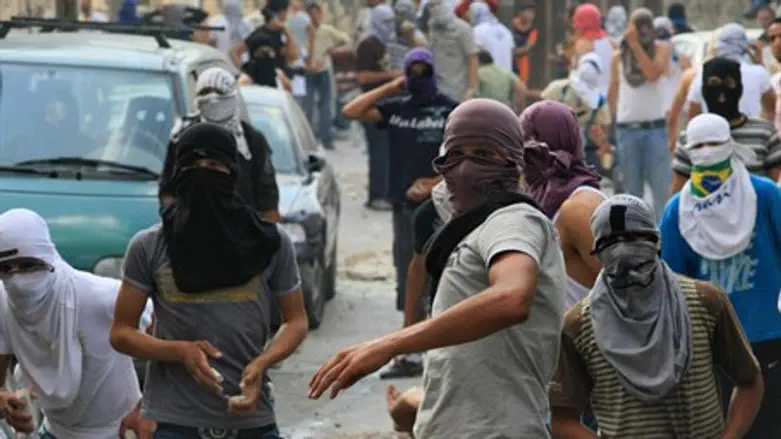 Arab rioters in Jerusalem (file)
Flash 90
Arab rioters hurling rocks, fireworks and molotov cocktails at a Jewish infant day care center on Ma'ale Hazeitim, the Jewish neighborhood on the Mount of Olives in Jerusalem, were caught on film on Tuesday in further testimony to the ongoing "silent intifada" in the capital.
The video, which was posted by Jerusalem Council Arieh King to his Facebook on Tuesday, shows four Arab criminals throwing various of projectiles with impunity for many long minutes from a protected nook on one of the rooftops, forcing infants to be rushed inside to bomb shelters.
In the video a woman can be heard saying "you don't even see a single police officer here," as the rocks continue to hail down - reportedly the police took seven minutes to arrive. The women then can be heard shouting to the police to go up to where the Arab attackers were pelting rocks.
Eyewitnesses say as many as 10 Arab attackers were involved in the assault.
After Border Patrol officers begin to fire crowd dispersal charges between eight and ten rioters are seen running away from the scene.
Writing about the video on Tuesday, King called for Interior Security Minister Yitzhak Aharonovich to be sacked for his inability to crush the growing "silent intifada" as it's being termed.
Aharonovich's term "will be remembered as the darkest and most depressing period for the Israeli police and in general, in the collapse of the personal feeling of security in Jerusalem in particular," wrote King.
Recently King exposed to Arutz Sheva what he called a governmental policy of de facto dividing Jerusalem by not enforcing laws in the eastern part of the city.
Attacks against security forces and civilians have included live gunfire by Fatah terrorists in Jerusalem, along with attacks with rocks, molotov cocktails and fireworks, and even anti-Semitic lynch-mobs. 
Aharonovich last Wednesday ahead of the Jewish New Year (Rosh Hashana) claimed there was a "30% drop" in rock attacks and an end to molotov cocktail attacks in Jerusalem - even as explosions rocked the Temple Mount as Arab rioters attacked and wounded police officers.
Police have been revealed to be hushing up Arab terror in Jerusalem, as Jerusalem Mayor Nir Barkat urges the media to stay quiet on the topic.