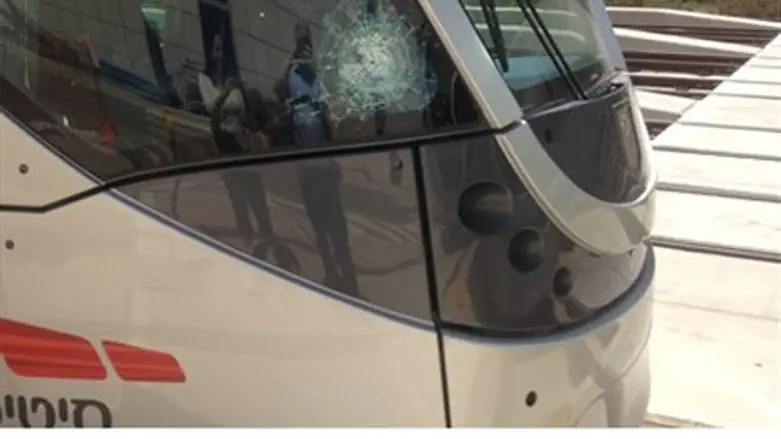 Light Rail car attacked.
Oz'el Vatik
The Jerusalem Police have instructed Citipass, the company that runs the capital's Light Rail system, not to inform the media and the public of rock attacks on its railway lines, unless it receives police approval to do so.
According to Voice of Israel public radio, the Commander of the Zion Precinct, Brigadier General Amnon Alkalai, called Citipass Director Doron Ravid and told him that the reports hurt police and encourage the attackers.
The Jerusalem District Police have appointed a special task force to deal with the recurring rock attacks on the Light Rail, and every report of an attack leads to the immediate launching of an investigation.
About 40 Arabs have been charged with harming the Light Rail since widespread rioting began in recent weeks.
The fact that the Light Rail would be a tempting target for Arab rioters was well known in the planning phases of the project, yet advice not to have the line pass through Arab neighborhoods went unheeded. As a result, it has been reported that less Jews are now using the Light Rail – which has also been attacked with firebombs.
Jerusalem Mayor Nir Barkat recently promised "an uncompromising, iron hand" against rock and firebomb attacks on the train and other Jewish targets, on his Facebook page, and said that over 700 rioters have been arrested.
Jerusalem Mayor Nir Barkat recently urged media outlets not to focus on the spike in Arab violence - dubbed "the silent intifada" by residents - saying that talking about the phenomenon too much could hurt local businesses. But residents have dismissed the claims and ask why police don't simply crack down harder on the rioters.
A group of Jews were subjected to a vicious assault in broad daylight after being ambushed by an Arab gang on Rosh Hashanah, in the latest of a spate of violent anti-Semitic incidents in Jerusalem.
On of the Jews attacked, Chanan Kupietzky, a 23-year-old counselor at the Old City's Hakotel yeshiva, was walking with his 16-year-old brother and a friend on the way back from the ancient Shiloach Pool in the City of David where they had taken part in the tashlich ritual, in which Jews symbolically cast their sins into a body of running water as a gesture of repentance.
Noting the "insane" situation prevailing in parts of Jerusalem, where residents of some neighborhoods have been subjected to regular rock-throwing attacks and even fireworks launched at their houses by Arabs, he accused the media and authorities of attempting to cover up the phenomenon by under-reporting it for political reasons.