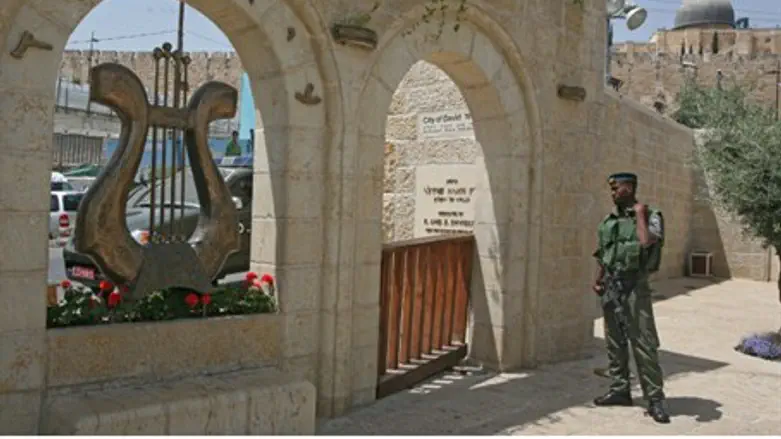 City of David
Flash 90
In what is being hailed as a victory for the Jewish presence in Jerusalem, dozens of Jewish families moved into their new homes overnight Monday/Tuesday, bravely settling in to the Shiloach neighborhood (known as Silwan by local Arabs) in Jerusalem.
Shiloach, a predominantly Arab neighborhood, is situated next to the historic City of David and across from the Western Wall.
The decision for Jews to move in has made headlines, however, as the neighborhood is also a flashpoint for anti-Israel and anti-Semitic violence. 
The buildings were purchased by an American company, Kandel Finance, and are owned by Jews, but Arab residents have claimed that the houses belonged to three Arab families. Such claims are regularly made after Jewish purchases of homes in Arab neighborhoods as a means to keep Jews out.
According to Walla! News, some eleven apartments - confirmed to have been legally bought by a legal representative for Kendal - are at the center of the conflict. 
During the move - which was carried out in the dead of night for security reasons - Arab rioters attempted to enter one of the Jewish homes by force, and began attacking police. Rioters threw rocks and fireworks at security forces, which were forced to calm the crowd using riot dispersal means.
One policeman suffered light injuries to the head and was treated on-site.
The move was facilitated, in part, by the Elad organization, which seeks to help increase Jewish presence throughout Jerusalem, including in predominantly Arab neighborhoods. Elad also operated the City of David tourist and historical site next to Shiloach/Silwan, which already houses roughly 50 Jewish families. 
Earlier this month, the Jerusalem Magistrate Court ruled that the Davidson Center Archeological Park next to the southern Western Wall could not legally be transferred to the organization's ownership. 
The Archaeological Park is a tourist attraction that extends from the foot of the southern wall of the Temple Mount, and includes the Davidson Center Museum.
The Park houses remains from the Second Temple of Jerusalem, as well as portions of the Southern Wall of the Temple Mount, the remains of Robinson's Arch, Hasmonean-era remains, streets of the Herodian, and ritual purification baths once used by visitors before ascending to the Temple. 
Transfer of ownership to the park was rejected on grounds of the site being owned, technically, by the government of the State of Israel.