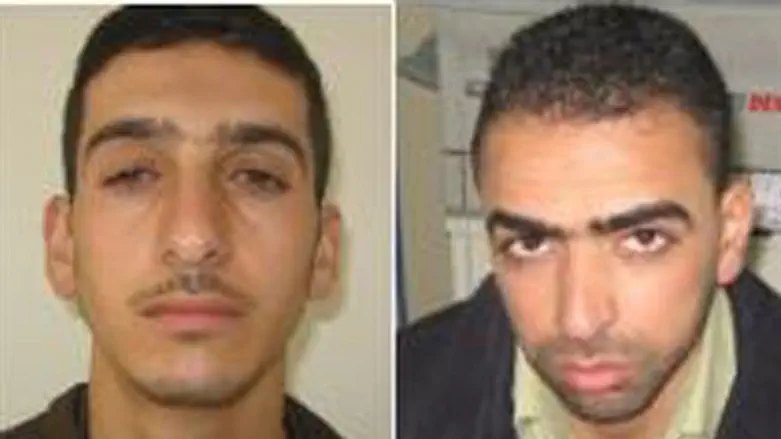 Marwan Kawasmeh (L), Amar Abu-Eisha
Israel Security Agency
Hamas praised two terrorists who murdered Israeli teenagers Naftali Frankel (16), Gilad Sha'ar (16), and Eyal Yifrah (19) in June as "martyrs" on Tuesday, after both were eliminated during a special operation from Israeli security forces overnight.
"Hamas praises the role martyrs [Amar] Abu Aisha and [Marwan] Kawasmeh played in chasing down Israeli settlers and we stress that their assassination will not weaken the resistance," Hamas spokesman Sami Abu Zuhri said.
Kawasmeh and Abu-Eisha kidnapped the three teens on June 12, as they were attempting to hitchhike home from school on a Thursday night. The three were then murdered shortly thereafter, but their bodies were not found until weeks later - prompting a nationwide manhunt in the interim which culminated in a crackdown on terror. Both terrorists' houses were demolished by the army soon after the bodies of the abducted teens were found.
A third person, brother Hussam Kawasameh, was apprehended by security forces in August in Hevron, and admitted under interrogation to having orchestrated the kidnapping and said he received funding from Hamas officials in Gaza.
The Kawasmeh brothers are related to Abdullah al-Kawasmeh, the former leader of the Hevron branch of Hamas's "military wing", the Ezzadine al-Qassam Brigades. Abdullah was killed in a shootout with elite Israeli counterterrorism police in 2003, who were hunting him for his involvement in several deadly terrorist attacks.
Despite the IDF's repeated revelations proving their knowledge of the abduction, Hamas previously denied all involvement with the incident on multiple occasions, calling Israel's accusations "stupid" and claiming the incident was an attempt to "break" the Palestinian "rights" movement.
The terror organization only admitted responsibility for the abduction and murder last month, calling it a "highlight and heroic act" in the "Palestinian struggle for resistance."