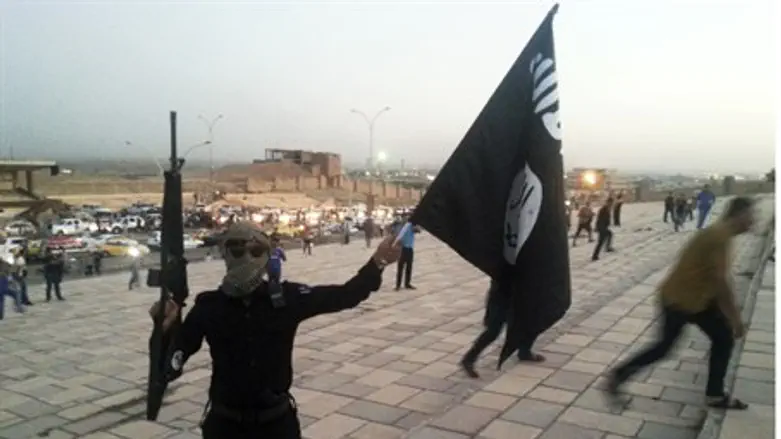 A fighter of the Islamic State (ISIS)
Reuters
Islamic State (IS or ISIS) is changing the Middle East, Middle Eastern affairs expert Dr. Eldad Pardo told Arutz Sheva Tuesday - and the Arab world's response to it will ripple into Israeli foreign relations as well. 
Pardo first related to the Iranian nuclear question, noting that cooperation with the US on the diplomatic front "is inconvenient to the Iranian regime," which opposes the US's Middle-Eastern policies in the first place.
"They say American proposals are not serious and that ISIS was established by the US by aiding the Syrian opposition," Pardo said. 
He believes that Tehran is sharpening its positions and aggrandizing its power to clarify to Washington and the West - as well as its regional neighbors - that a nuclear deal will not work unless it is a major player in its final form. 
"For the Iranians, ISIS is less of a threat than in the Sunni world," he noted. "This is because ISIS cannot conquer Iran - which is both strong and Shi'ite, so too with Jordan and Saudi Arabia." 
ISIS may still prove a threat in the long run, however, through a "war of attrition" the terrorist organization is waging by overwhelming Iran's regional partners, Syria and Lebanon.
The ripple effect of ISIS - and its effect on a nuclear deal - may extend so far, he said, to interfere even with Israel's relations with the rest of the Middle East.
"If the United States would give up the nuclear issue, it would be dangerous for Israel and the Sunni world," Pardo stated. "Iranians want to build the ancient Iranian Empire. They see themselves as some kind of Aryans facing the primitive Arabs."
"On the other hand, there is pressure for change from within Iran," he continued. "What Hezbollah [in Lebanon] has been experiencing in recent years and the rise of Sunni extremists will change public opinion in Iran. Economic sanctions drive [change] as well, and perhaps it will lead them to postpone nuclear development for a few years."
"If it happens, Israel will benefit," he added.
ISIS-produced chaos within the Arab world, meanwhile, has given Israel the opportunity to make new diplomatic ties in the Middle East over common security needs, according to Pardo. 
The expert noted that ISIS's takeovers in Iraq and Syria could see Israel cooperate - if indirectly - with the Kurds and opposition groups inside Syria, to form an unlikely coalition. 
Hezbollah, too, may be placated, according to Pardo - as it "understands when to remain quiet along Israel's borders," like it had with Syria during Syrian President Bashar Assad's rule. 
Overall, he said, "all the parties in the Middle East are trying to take advantage of the ISIS crisis to their advantage" - including Israel.
"When fighting against Hamas, the ISIS crisis helped us [in terms of public opinion]," he explained. "The Iranians, also, are seen as moderates in light of what is happening with ISIS, even if they conduct public executions." 
"Assad has killed more people than ISIS through gas and violence, but he is proud to reject ISIS," he noted. "There's very much a struggle for image and for basic moral values here."