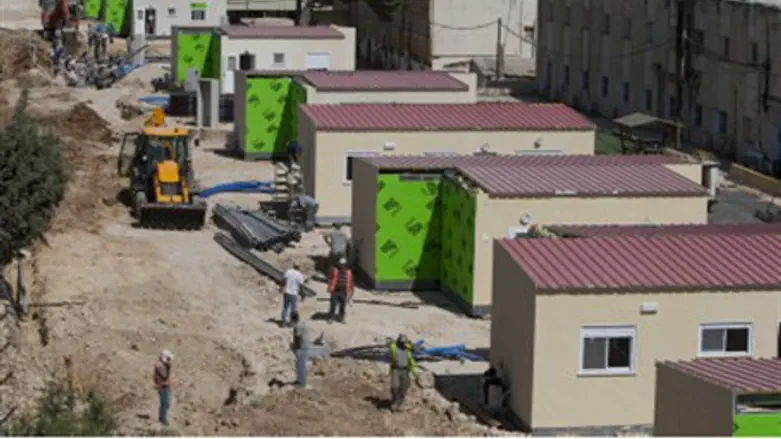 Caravan homes for Givat HaUlpana evictees.
Israel news photo: Flash 90
Rabbi Zalman Baruch Melamed, Rabbi of Beit El and one of the leading religious Zionist rabbis of this generation, accused Prime Minister Binyamin Netanyahu of cheating him, when he promised to build 300 housing units in the community in exchange for the destruction of the Ulpana neighborhood.
The High Court recently decided to tear down a building constructed by contractor Meir Dreinof, which holds numerous housing units. But according to Rabbi Melamed, Netanyahu promised him – during the negotiations over the Ulpana neighborhood – that the building would remain standing.
"The public will not agree to this," said the rabbi about the court decision. "There will be a really harsh war over this. There will be people who are willing to be hurt, to be injured and even worse than that, and not allow the destruction of these buildings that are in the very heart of the community. We cannot agree to this thing."
Asked if he would be willing to calm the spirits as he did during the Ulpana controversy, Rabbi Melamed said that he could not, after the prime minister deceived him as he did.
The rabbi added that the prime minister's reneging on his promise harms him, Rabbi Melamed, personally. "When 30 housing units and the yeshiva building are built, the public says that the rabbi took care of his own business, and that he does not really care about the 300 houses that the prime minister promised. This is a very grave affront to me and I will not be able to interfere and tell people to avoid this struggle."
The rabbi added that he is disappointed with the way the Jewish Home is conducting itself on this matter and others. "There is an onslaught of laws that detract from the state's Jewish character, and the Jewish Home keeps on retreating, going on the defensive and compromising – instead of attacking and strengthening the Jewish character of the state.
"As regards the Land of Israel, there is a freeze [on Jewish construction in Judea and Samaria] for the past six months, and the Jewish Home is not taking any action to prevent this situation, so it is little wonder that the public is frustrated."
The Jewish Home should demand that Netanyahu press ahead with the promised 300 housing units, the rabbi added. "I do not like to say words of criticism on the eve of Rosh Hashana," he explained, however, "and I wish that the Jewish Home and the Prime Minister will carry out their duties next year – Shana Tova to everyone."