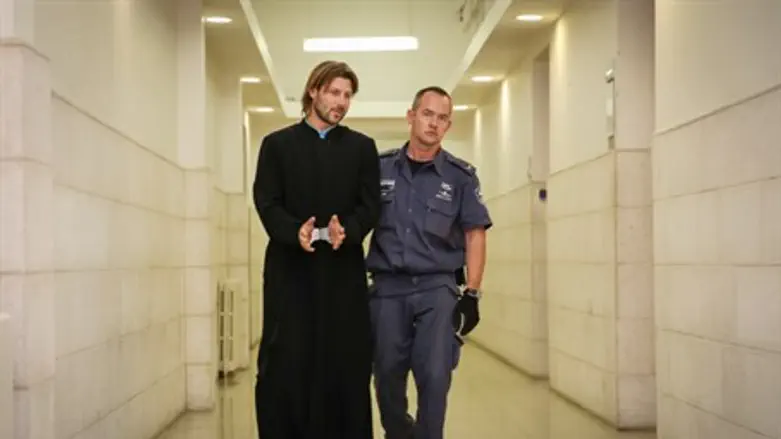 Gleb Grozovsky, under arrest
Flash90
Israeli prosecutors are pushing to extradite a Russian priest linked to top football club Zenit St Petersburg who is wanted back home on charges of sexually assaulting two young girls.
The justice ministry said police had arrested Gleb Grozovsky, 35, on Sunday as a first step towards extraditing him after Russia issued an international arrest warrant over an alleged sexual assault on two girls, aged 9 and 12.
It was not immediately clear how long he had been in Israel.
The state prosecution has petitioned Jerusalem District Court to sanction the deportation of Grozovsky and that his detention be extended until the end of the extradition proceedings, the ministry said.
Russian investigators in November charged Grozovsky in absentia with sexually assaulting two underage girls while at an Orthodox summer camp on the Greek island of Kos in June 2013.
Grozovsky works as an advisor to Maksim Mitrofanov, the general director of FC Zenit of Saint Petersburg.
Investigators said they had additional information he had "committed a series of similar crimes in Saint-Petersburg and the region."
The Israeli justice ministry said Grozovsky arrived in Israel in September 2013 as a tourist and applied for citizenship, but his request was rejected and he was asked to leave.
He appealed to the High Court against the interior ministry's ruling but court has not yet handed down a decision.
Grozovsky is a well-known priest in Saint-Petersburg, who works with drug and alcohol addicts, coordinates a slew of church-affiliated youth programs and has his own radio show. His arrest quickly made headlines and is making the rounds on Russian-language social media. 
In a post on his networking page, Grozovsky denied all the accusations and said he was working with drug addicts in Israel with the blessing of his superiors.
AFP contributed to this report.