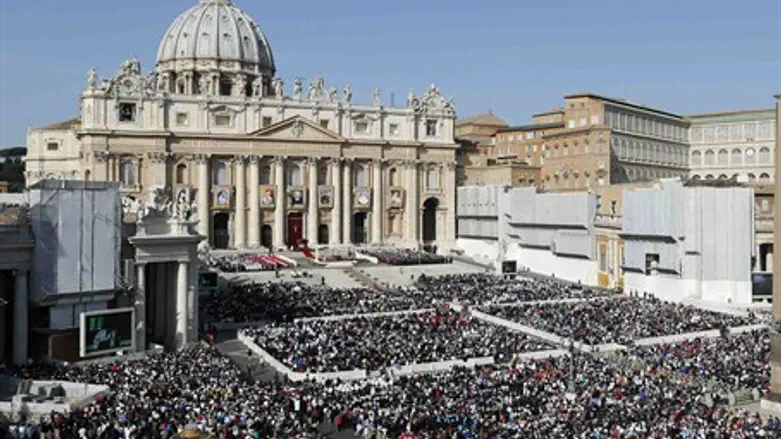 Vatican city
Reuters
As Islamic State (ISIS) extends its reach in Iraq and Syria, the fears of the brutal jihadist group committing a terror attack in western states continue to grow. Just this weekend it was revealed the Vatican increased security over intelligence reports of a possible attack on Pope Francis.
The Italian La Nazione revealed Saturday that the number of police patrolling St. Peter's Square during the Pope's addresses to the public, held weekly on Sunday and Wednesday, has been considerably bolstered in recent weeks.
The move comes after an unspecified terror threat against the Pope was received by a foreign intelligence agency, possible the CIA. The agency intercepted a conversation between two Arabs discussing "doing something in the Vatican."
Just two weeks ago Italy's Interior Minister Angelino Alfano warned the Italian lower house of parliament that Italy and Rome - including the Vatican - are a principal target of ISIS, given that it is a symbol of the West and Christianity.
While Vatican spokesperson Federico Lombardi tried to play down the recent increase in security, saying they had not received warnings of a "particular threat or cause for concern," Iraq's ambassador to the Vatican Habeeb Al Sadr shared a less blithe appraisal. 
Al Sadr warned last week that ISIS sees Pope Francis as a key target, and may try to assassinate him during his upcoming trip to Albania on Sunday.
"What has been declared by the self-declared Islamic State is clear – they want to kill the Pope. The threats against the Pope are credible," Al Sadr told La Nazione on Tuesday.
"I believe they could try to kill him during one of his overseas trips or even in Rome. There are members of ISIS who are not Arabs but Canadian, American, French, British, also Italians," said Al Sadr. "ISIS could engage any of these to commit a terrorist attack in Europe."
Alfano two weeks ago warned the Italian lower house of parliament that 48 Italians are known to have left to join the jihad in Syria. The rising local threat of jihadist sentiment has recently been expressed by anti-Semitic Italian Muslim clerics.
Furthermore, ISIS leader Abu Bakr al-Baghdadi specifically stated on July 2 that Rome would be targeted.