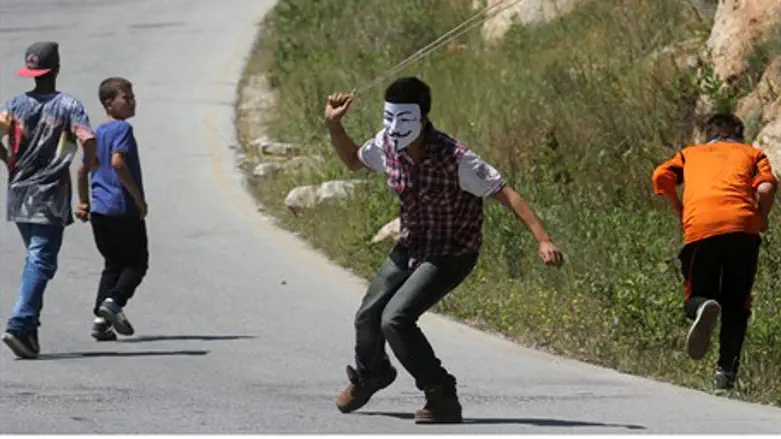 Arab rioters (file)
Flash 90
It's being dubbed the "silent intifada" by Israelis, with many perplexed as to why authorities aren't acting more firmly against the massive explosion of violence by Arab extremists in Jerusalem.
Rock attacks, molotov cocktails, lynch-mobs, physical assaults, vandalism, firecrackers and even live gunfire have all been reported, against police and Jewish residents alike, as figures revealed an alarming, exponential growth in the number of terror attacks in the capital. 152 incidents were reported in July and August alone - a stark rise from previous months.
And as two incidents on Tuesday illustrate, even young children are getting involved.
In one incident Tuesday afternoon a car in which a Jewish family was traveling was hit by a rock while driving through the Shiloach (Silwan) neighborhood. Thankfully, no one was injured, but the family promptly informed the police.
Border police responded to the incident, and after an investigation revealed that the culprit was an 11-year-old Arab boy.
The incident was referred to social services, while the minor was released into his parent's custody.
Shortly prior to that incident police said an Arab youth hurled rocks at police accompanying an ambulance in the A-Tor neighborhood.
In that case as well, police succeeded in tracking down the attacker - only to find, to their astonishment, that the perpetrator was a nine-year-old boy. 
Again, the boy was released into his parents' custody and the case was referred to social services.
The public outcry over the lack of action by authorities prompted a high-profile visit to some of the worst-hit areas by the chief of police and the internal security minister last week, and promises of tougher measures against the attackers.
Those promised appear to be yielding some fruit; Tuesday morning saw a mini-crackdown by police, with 22 suspected rioters arrested, many of whom (including the above) were minors. 
Several of the young offenders admitted to firebombing Jewish houses because they "hate Jews."