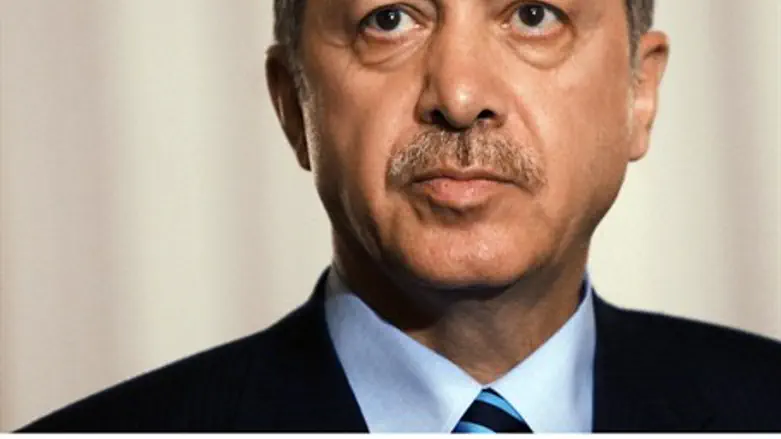 Recep Tayyip Erdogan
Reuters
Turkish President Recep Tayyip Erdogan said Monday he would welcome seven top Muslim Brotherhood figures being forced to leave Qatar, indicating his strong ties with the Islamist group - and by extension with its Gaza offshoot Hamas.
"In the event that they request to come to Turkey, then necessary investigations will be carried out. ...If there are no obstacles, the mandatory convenience provided to everyone will also be provided to them," Erdogan said on returning from an official trip to Qatar, reports the Turkish Hurriyet Daily News.
"They can come to Turkey just like any other foreign visitor, if there are no problems," added Erdogan, in a position contrary to that of most Arab states which have supported Egypt's crackdown on the group.
The seven Muslim Brotherhood leaders include Mahmoud Hussein, secretary-general of the movement; Hussein has listed Turkey as a possible destination, although Erdogan said none of the seven has yet contacted Turkey.
Egypt and Turkey have been in a state of open tension since Egyptian President and then-army chief Abdel Fattah el-Sisi ousted President Mohammed Morsi of the Muslim Brotherhood last July 3.
In the crackdown on the group that has followed, Egypt banned the Muslim Brotherhood and just this Monday sentenced its top leader Mohammed Badie to life in jail along with 14 others.
For his part, aside from backing the Muslim Brotherhood Erdogan has supported the group's offshoot Hamas, reportedly housing its international headquarters in Istanbul and being a key source of funds for the terrorist group.
"We are upset that ISIS is abducting Muslims"
On another front, Erdogan spoke about the 49 Turkish citizens currently being held hostage by the brutal Islamic State (ISIS) which has conquered large swathes of Iraq and Syria.
Erdogan promise to conduct humanitarian activities in Iraq while skirting a military campaign against the jihadist group, apparently due to fears that such a move would compromise the safety of the captives.
Indicating his indignation that ISIS has not limited its attacks to non-Muslims, Erdogan said "our problem is this: 99% of the Turkish people are Muslim. These 49 citizens are all Muslims. An approach like this to these people has made us upset. We are exerting efforts on how we can resolve this issue through dialogue."
Erdogan also rejected reports in American news sources that he had bought oil from ISIS.
The Turkish president said he complained to US Secretary of State John Kerry about the reports, saying "the American press is producing fabricated news. (It) is very skilled at producing such news. (They aim at) destroying the ties between Turkey and America and other friendly countries."
Just two weeks ago the Ambassador for the European Union (EU) in Iraq, Jana Hybaskova, admitted that several EU member states have bought oil from ISIS, but refused to divulge the names of the countries despite being asked numerous times.