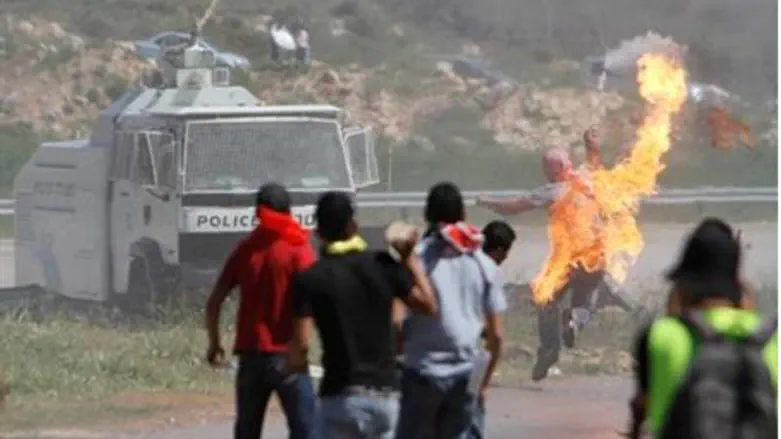 PA Arab throws firebomb at Israeli forces.
Reuters
In arrests carried out Monday and early Tuesday morning, Jerusalem Police and Border Police officers have arrested 22 Arabs, many of them minors, on suspicion of rioting and attacking Jews over the last few days.
Those arrested include six children aged around 12 who are suspected of throwing firebombs at the homes of Jewish families in Abu Tor, in southern Jerusalem. Three youths are suspected of throwing rocks at the Light Rail and four other youths are suspected of hurling firebombs at security forces in Silwan (Shiloach) and elsewhere.
"The Jerusalem Police will continue its determined and uncompromising activity, and lay its hand on whoever has a hand in the rioting in the city, and act to bring them to justice," said the police.
The minors who were arrested admitted that they threw firebombs at Jews' homes, because of "hatred for the Jews," in their words.
The police intend to press charges despite the young age of the suspects, and expect to carry out more arrests.
The wave of arrests follows a tour of the Jerusalem seam line neighborhoods by the Knesset's Interior Committee. Television footage from that tour caught Committee Chairwoman MK Miri Regev calling Jerusalem Police Commander Yossi Parienti a "coward" for failing to deal with the Arab rioters who have created havoc in the city.